NEST® LEARNING THERMOSTAT
---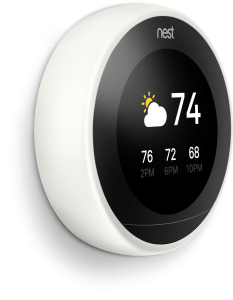 Programs itself.Then pays for itself.
Meet the 3rd gen Nest® Learning Thermostat. It has new rings and a big, sharp display. And it saves energy. That's the most beautiful part.
Your life with Nest
The Nest Learning Thermostat automatically adapts as your life and the seasons change. Just use it for a week and it programs itself.
Follow the Leaf
Change the temperature to save energy and you'll be rewarded with a Leaf. The Leaf learns how to help you save, so it appears at different temperatures for different families.
There's a ring for every home
The Nest Thermostat now has a ring to fit any home's style. Choose copper to add a warm touch. Stainless steel is perfect for a classic, versatile look. Black blends in with dark walls and stylish decor. And white looks great in simple, modern homes.
Know your home is safe.
The Nest Thermostat is just one part of your heating and cooling system. But it can keep an eye on the rest of it. You'll get an alert on your phone if there's something wrong – like temperatures are so low your pipes could burst. And if it looks like your furnace is acting up, the Nest Thermostat will send you an alert.
FAQ
How does a Nest thermostat work?
Nest thermostats use smart technology to find the right temperature settings for you, without requiring you to spend time testing out different settings. Because the thermostat knows when you're home or away, it can adjust settings automatically to help you save money on energy consumption. Technological innovations allow the thermostat to determine how best to heat or cool your home, so you can maintain a comfortable space while you save.
How do Nest thermostats save energy while you're away?
The Google Nest smart thermostat offers a variety of efficiency settings that you can use at your convenience or allow the thermostat to turn them on automatically. While you're away from home, the thermostat can switch into eco mode. You can save money by improving your efficiency while you work or run errands without having to remember to adjust the settings.
Can Nest thermostats help you save energy while you're home?
After Google Nest thermostat installation service, you'll notice a leaf showing up on the thermostat whenever you choose an efficient temperature. This leaf helps you to understand intuitively what to do to cut down on your energy consumption. Over time, as your settings become more efficient, you'll need to do more to increase your savings. You can view reports to gain more insights into your energy use patterns.
Which benefits does the Nest thermostat offer?
Google Nest Learning thermostat installation offers several convenient features. The ability to create settings that feel natural and comfortable, while you save energy and money, drives most homeowners to consider using these thermostats. Other benefits of Nest Learning thermostats include remote operation using the Nest app and monitoring that helps you identify problems with your heating or cooling system.
Do Nest thermostats work with any heating and cooling system?
Nest smart thermostat installation should be compatible with most conventional heating and cooling systems, including forced-air, radiant, natural gas, oil, or electric. Some systems, such as baseboard heaters, may not work with the Nest thermostat. Consult our technicians before installing programmable thermostats so you can determine which options will integrate with your existing system.
Do Nest thermostats allow control from a remote location?
After you arrange for Google Nest temperature sensor installation, you can enjoy the benefit of viewing or changing your temperature settings from any location with Internet access. As a smart device, Nest thermostats connect to your Wi-Fi. This function allows you to look at energy reports or make adjustments using the app, even if you're not home.
Can a Nest thermostat help improve my indoor air quality?
Although Nest thermostats do not offer specific options to improve your air quality, its features can help you make positive changes to your home. Indoor air quality can decrease for different reasons especially if you aren't using your heating and cooling system effectively. Increasing your efficiency can minimize the time you use your system, which can lower the amount of dust or allergens cycling through the air.
Do Nest thermostats work with other smart devices?
Nest integrates seamlessly with several other smart technologies, including Google Assistant, Amazon Alexa, and Phillips Hue for lighting. With this capability, you can set up your heating and cooling system to work with lighting, security, and other smart systems. You can even create controls that allow you to change the temperature using voice commands.
Can you install a Nest thermostat in a rental property?
Before scheduling Google Nest thermostat replacement in a rental property, you should talk to your landlord or property manager and get permission first. Many property owners appreciate tenants who want to increase their energy efficiency and lower their energy consumption, so you may be able to persuade them to accept your plan.