Heating
---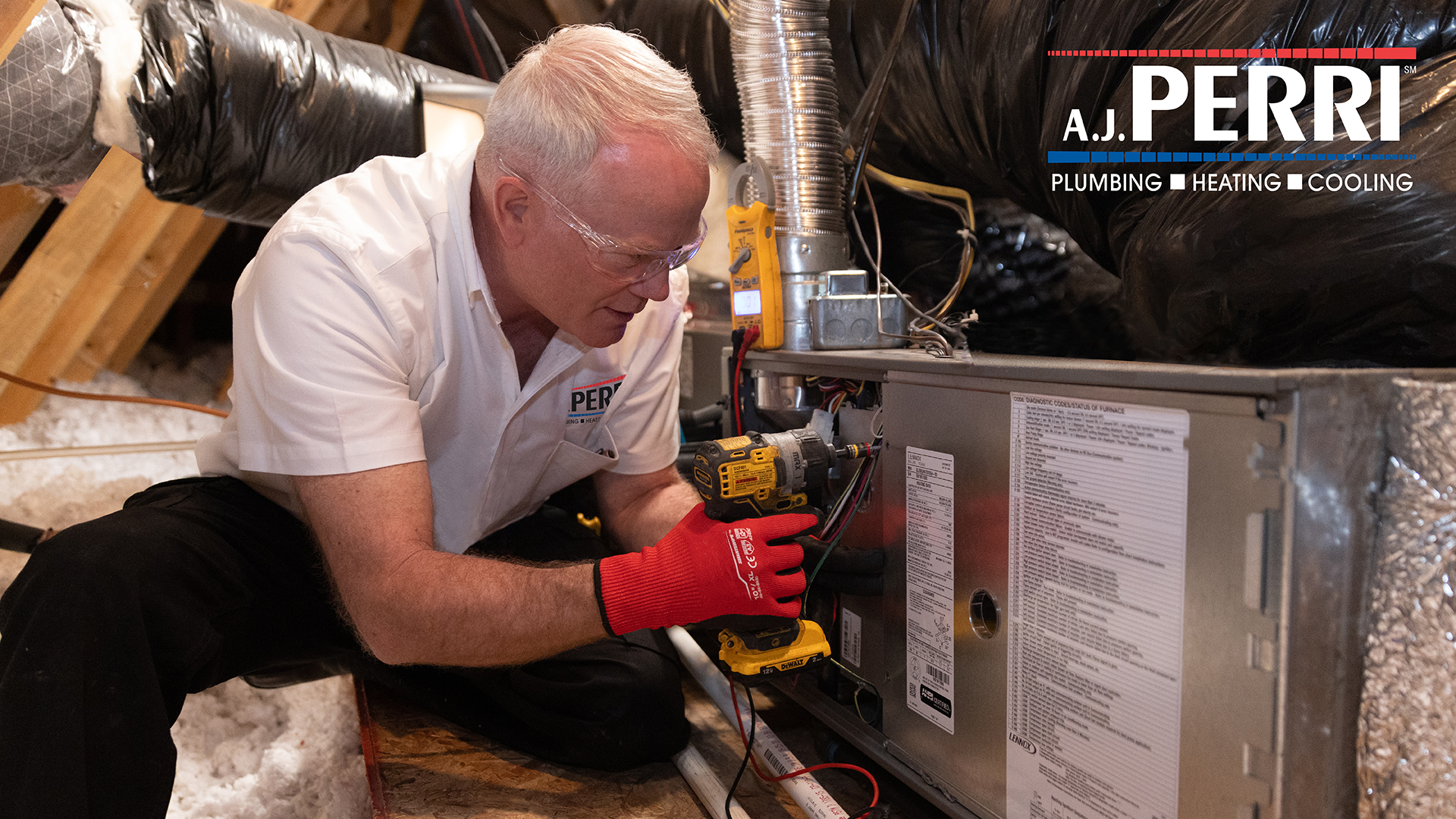 A.J. Perri has a wide range of home heating systems that fit every budget. We can help you choose the best system for your New Jersey home; from gas furnaces to heat pumps to boilers, A.J. Perri is the one-stop shop for your family's comfort when temperatures drop.
It's important to us to gain the trust of our customers and ensure their 100% satisfaction with every job. A.J. Perri Plumbing, Heating, and Cooling is proud of our tradition of excellence serving homeowners needing installation and repair in New Jersey.
If you're currently in the market for a new heating system, you could not have chosen a better time to upgrade. Thanks to the Inflation Reduction Act, homeowners may be able save up to $3,200 on new home comfort products if they meet the proper criteria for energy efficient systems. The team at AJ Perri is on hand to help answer questions regarding which systems are eligible. Remember, we are not licensed tax professionals, so you should consult a tax advisor for any tax advice.
Heating Repair
A.J. Perri has over 45 years of experience and industry knowledge, ensuring your job is done right the first time, and we offer a 100% satisfaction guarantee. We can service any make or model and install any of our select Carrier systems.
Gas Furnaces
We have a wide range of home heating systems that will fit every budget and meet every comfort expectation. A.J. Perri is a factory-authorized dealer of Carrier furnaces.
Home Heat Pump Systems
We offer a complete line of high-efficiency heat pumps, to both heat and cool your home, providing year-round comfort.
Home Air Handlers
Air handlers play a significant role in the overall efficiency of your heating/cooling system, the more efficient your air handler is, the less work your outdoor unit has to do to make your home comfortable.
Ductless Split Systems
A ductless mini split heating and cooling system gives you the freedom to control the temperature on a room-by-room basis. We are proud to offer the Carrier line of wall-mounted systems, which are among the highest quality, most energy-efficient ductless mini split systems available.
Hydronic Heating Systems
We're proud to offer our New Jersey customers Carrier Hydronic Boilers, a heating technology that relies on water to transfer heat energy into a space, creating a moist heat while providing a more comfortable living environment.
Hybrid Heat Installation
We can help you choose the best system for your New Jersey home, including a Hybrid Heat™ system, designed to deliver maximum comfort and economy.
Thermostat Products & Installation
Your thermostat is the "brains" of your heating and cooling operation. Ask your A.J. Perri comfort consultant which thermostat is right for your home.
The Right Contractor
With so many contractors to choose from, how do you know you're making the right decision? Whether you're replacing a new unit or have a plumbing issue, we're here to help.
Learn More About New Jersey
If you live in New Jersey, you already know how cold it can get in the winter. However, the temperatures can drop below freezing often enough that having a functional heating system you can depend on is crucial. The average temperature during the winter in the Garden State typically falls between 30 and 40 degrees Fahrenheit.
The coldest temperature recorded in the state was minus 34 degrees, which happened on January 5, 1904, in River Vale. This isn't just the coldest day on record for New Jersey but the entire Atlantic Coast. In 1996, the area experienced a terrible blizzard that dumped more than 27 inches of snow on the area. High winds also meant massive power outages along the Jersey Shore and more than $2 billion in damages. Coastal cities such as Atlantic City and Long Branch suffered the worst of the storm.
This is why you need to make sure you have home heating services you can depend on to keep your equipment in good working order. Hiring A.J. Perri to provide central heater service means our technicians will inspect, repair and maintain your furnace in the most effective manner, so you never have to worry about them failing when you need them the most. Our furnace services also include expert installations when you want to add to or upgrade your home's HVAC. The benefits of choosing our heating and furnace service include:
Our professionals bring all the knowledge and experience needed to diagnose any problems in your system and determine the best solution.
We also ensure that we always follow all the appropriate safety protocols to reduce the risk of injury or property damage.
We only use the highest-quality materials and equipment, so you can rest assured that your system will be in its best shape when we complete our work.
Our furnace services help extend the lifespan of your HVAC system and give you peace of mind knowing that it will be running as efficiently as possible.
We also offer annual maintenance services to ensure your equipment runs as well as it should all year long. We will make any necessary adjustments or repairs as needed throughout the winter.
When you hire us, you can rest assured that your systems will remain in good working order no matter what the elements have to throw at you. With our expertise working for you, you will stay comfortable all year long and keep your energy bills low by ensuring your furnace runs as efficiently as possible. We take pride in the quality craft and exceptional customer service we offer, and we're confident that you will see why hiring us is worth the investment.
We also support several local charities through our Perri Spirit initiative. Together, we work to give back to the communities we serve and make a positive impact throughout the area. We've proudly served our neighbors in Bergen, Essex, Hudson, Mercer, Middlesex, Monmouth, Morris, Ocean, Passaic, Somerset, Sussex, and Union counties for more than 50 years. We're one of the top heating companies in the region, and we look forward to keeping your home comfortable all year round.