Air Handlers
---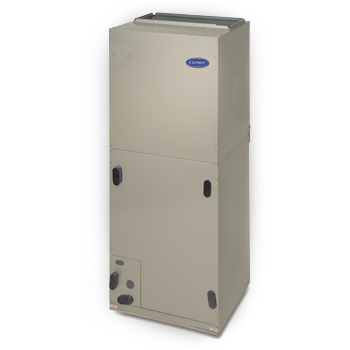 "Most of our customers don't even realize they have an air handler as part of their home comfort system. But that's okay because we know. A.J. Perri offers Carrier® Air Handlers, the best on the market, ensuring system efficiency and providing you the best home comfort."
– Heating & Cooling Service Manager, A.J. Perri
Air handlers play a significant role in the overall efficiency of your home comfort system.The more efficient your air handler is, the less work your outdoor unit has to do to make your home comfortable. Carrier offers a variety of air handlers. Carrier Air Handlers are available with either single or variable-speed motors. Look below; with our brief feature descriptions, you can determine which product best fits your needs. A.J. Perri is the area's leading air handler company. Our technicians love to answer your questions, so feel free to ask!
Infinity Series Air Handlers (Variable speed model)
Variable-speed blower motor with high-efficiency operation
Advanced temperature control and humidity control
Infinity intelligence makes self-configuration and easy troubleshooting possible with infinity control
Puron® refrigerant does not deplete the ozone layer
Thermal Expansion Valve-equipped
10-year limited warranty on parts
Performance Series Air Handlers (Variable speed model)
ArmorCoat™ coil protection offers additional corrosion resistance
Variable-speed blower provides enhanced comfort and quieter operation
Includes Ideal Humidity® System technology 
Thermostatic Expansion Valve (TXV) refrigeration management ensures reliable, efficient operation by maintaining proper flow
Sloped, corrosion-resistant drain pan design works to reduce mold and bacteria 
Compatible with air purifier and humidifier equipment
Puron® refrigerant does not have a negative effect on the ozone layer
Cabinet is fully insulated
Advanced controls for adjusting temperature
10-year limited warranty on parts
Comfort Series Air Handlers (Variable speed model)
Advanced humidity control capabilities
Drain pan design is sloped and corrosion-free, which helps prevent mold and bacteria build-up
Puron® refrigerant does not deplete the ozone 
ArmorCoat™ coil protection ensures superior corrosion resistance
10-year limited warranty for parts
The Benefits of Air Handlers in New Jersey Homes
 Being on the Atlantic coast, New Jersey experiences extreme temperature variations all year , meaning summers can be scorching hot, while winters can be frigid and snowy. The state's average annual temperatures have increased by roughly 3 degrees since the turn of the 20th century, with hot days rising since the early 2000s. On top of this, the sea levels have risen more than 8 inches along the Jersey Shore from 1979 to 2019. Rainfall rates are also expected to increase by about 20% over the next 100 years. These extreme weather conditions mean homeowners in New Jersey can benefit from having air handlers in their homes to stay comfortable even when the conditions outside are inhospitable. 
Frequently Asked Questions
What is an air handler, and how does it work with my HVAC system?
An air handler is responsible for circulating air throughout your home, making it one of the most critical elements of your HVAC unit.
What are the benefits of having a professional install my air handler?
Choosing a professional air handler service to install your unit means your equipment will be connected correctly and operate as efficiently as possible. 
What are some of the most common problems caused by DIY air handler installation?
Installing your air handler yourself can result in incorrect installation, inefficient performance, and many potential safety hazards. 
What qualifications should I look for in a professional air handler installer?
When choosing a professional for air handler replacement or installation, you should always look for a licensed, insured company with experience with this equipment.
Can I save money by installing my own air handler? 
A DIY installation might seem like it will save you money, but the truth is it can cost you a lot more in the long run due to potential mistakes and inefficient performance. 
How long does it take to install an air handler? 
The time varies based on the installation's complexity and the size of your chosen unit. 
What factors should I consider when choosing an air handler for my home?
Some of the most important things to consider are the size and layout of your home, how efficient the unit is, and your budget for the project.
What is the typical cost of air handler installation?
How much you'll need to spend depends on factors such as the size of the unit, how complex the installation is, and where you live. 
Can an air handler improve the air quality inside my home?
Yes, installing an air handler can help filter out any pollutants or allergens in the air, improving its breathability. 
How often should I have my air handler inspected and maintained?
We recommend having your air handler checked out at least once a year. Regular inspections and maintenance can ensure you don't experience breakdowns and keep your AC and air handler running smoothly for as long as possible. 
For more on this or any of our other products and services, please contact us today. Don't forget to ask us about our exclusive 100% Satisfaction Guarantee!