Ductless Split Systems
---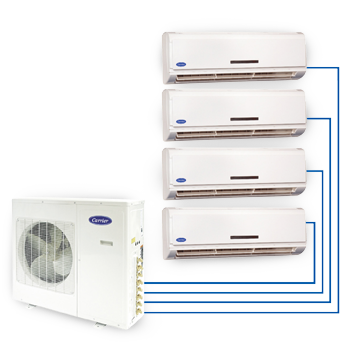 Ductless split systems offer you incredible flexibility. These systems are ideal for homeowners who need to meet the demands of everyone in the family. For instance, your kids prefer a warmer room to sleep in at night but you and your husband sleep better when it's cool. This system allows both parties to be happy.
These systems also help save energy costs by only heating or cooling based upon how you use the rooms or spaces in your home. For example, you can turn down the air in a guest bedroom that doesn't get used very often but still enjoy comfort in your bedroom and the living spaces you occupy daily. When you're using less energy, you're spending less on monthly utilities too.
Ductless split systems are also a good alternative for heating and cooling when a conventional HVAC system is too costly or not feasible to install.
We proudly offer both Carrier and Mitsubishi wall-mounted, high quality, energy-efficient, mini-split systems that can provide the perfect temperatures in the rooms when and where you need it.
How It Works
Ductless split systems have units that are mounted to the wall, as many or as few units as needed. You can choose to not install units in rooms or spaces that rarely get used. You get the opportunity to customize a system that best fits your needs. Each room is controlled separately in a multi-unit system to ensure comfort on a room-by-room basis.
With a ductless heat pump system, you get both a heating and cooling system. It operates like a ductless air condition, with an outdoor unit and an indoor unit, but with one main difference – it can reverse its operation to provide both heating and cooling.
Benefits of a Split System
Enjoy the perfect comfort, flexibility and money savings without compromise. You can keep each room at just the right temperature because each room or area is controlled separately. All of this adds up to maximum comfort and efficiency, and helps to lower heating and cooling bills.
Flexibility to match your lifestyle
Efficiency, only heat/cool the rooms you want, when you want
Quiet operation
Year-round comfort
Humidity control during the summer months
Allergen control, each unit has its own filter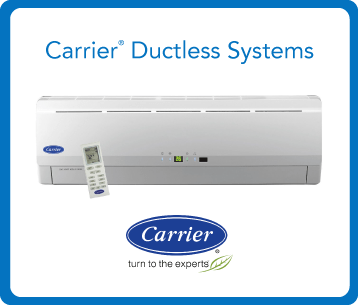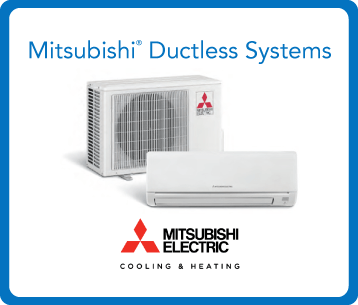 For more on Carrier or Mitsubishi ductless split systems please contact us. Don't forget to ask us about our exclusive 100% Satisfaction Guarantee!
"Ductless split systems provide the convenience of room-by-room temperature control, allowing you to heat or cool rooms as needed, making it a great money-saving option for homeowners."
– Installation Mgr., A.J. Perri