Water Heater Products & Services in New Jersey
---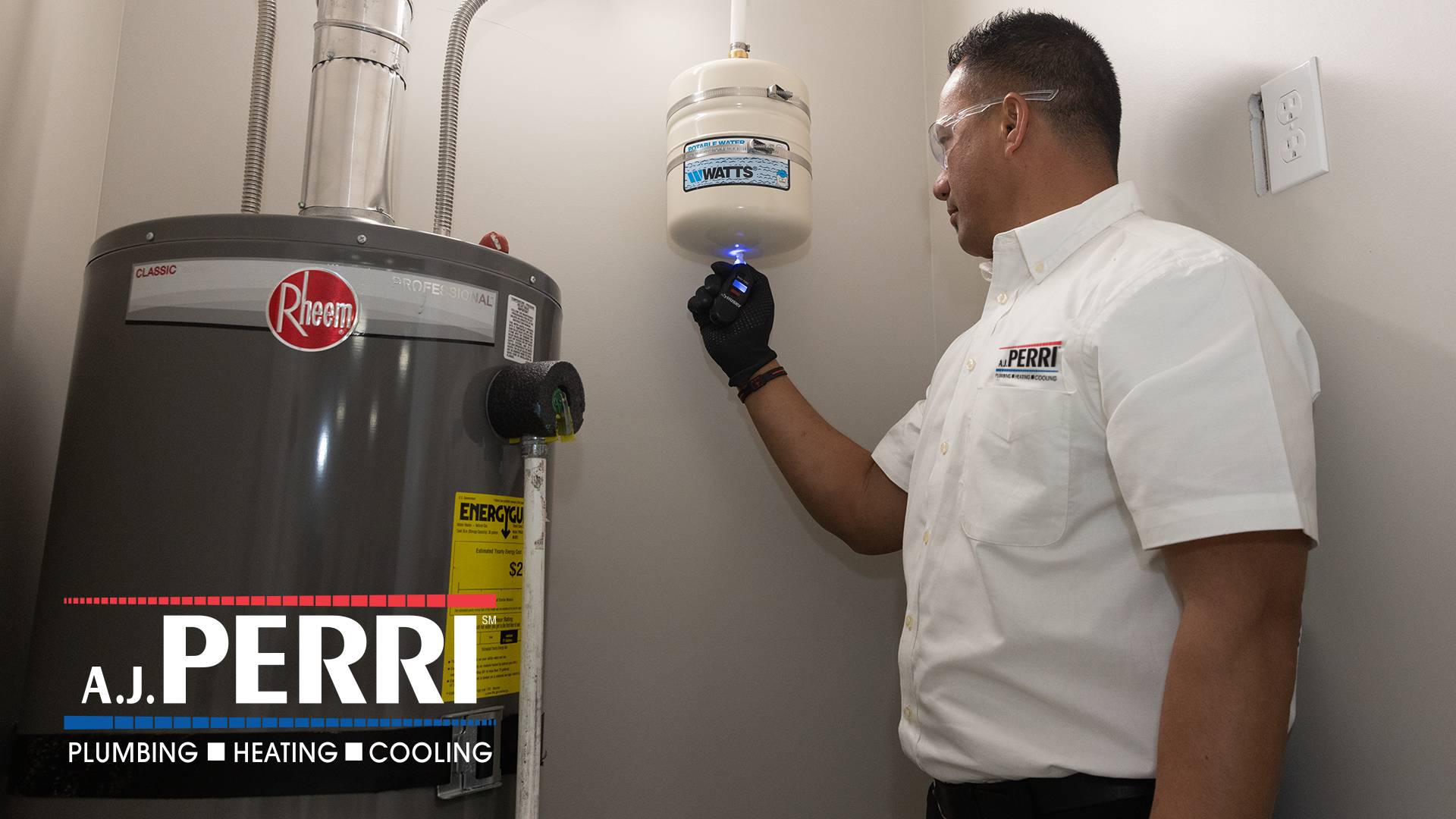 Hot water shouldn't be complicated. That's why you need professionals you trust to ensure your system provides comfort when you need it most.
When it's time to replace your water heater, come to the experts in New Jersey for water heaters: A.J. Perri. With over five decades of experience in dealing with standard storage tank water heaters and on-demand (tankless) water heaters, our experts will work with you to discuss the best fit for your home, your needs, and your budget.
Tankless Water Heaters
Tankless water heaters are also known as "on-demand" water heaters because they heat water when you need it. These water heaters are much more energy-efficient than your standard water heater because there is no tank to hold water and keep it warm for use. Water is heated only when there is a need for hot water.
On-demand water heaters are Energy Star certified for more energy savings, but other benefits include:
Less space required since there is no tank
Quicker delivery of hot water, which equals less water waste
Extended life expectancy
More capacity for hot water
More advanced technology (which increases efficiency)
A.J. Perri's on-demand water heater offerings come with the Ready Link® Cascade System, which helps the flow on demand ratio with multiple heaters—when one unit gets up to 80 percent capacity, the next unit will turn on and start the process of heating water.
Traditional Water Heaters
Traditional water heaters feature a large tank and are considered "traditional" because they are typically installed in new homes. The tank is used to store and keep water heated 24/7. Once the tank is empty, it refills and heats the water to the set temperature. The storage capacity for the tanks varies with the model and the demand for hot water in your home. Traditional water heaters can still offer low operating costs and high energy efficiency, claiming the Energy Star certification too.
A.J. Perri offers their customers an optional 10-year "tank" warranty to help with the lifespan of your water heater tank. Other benefits of going traditional include:
Brass drain valve
Easy igniting with a pilot light
Energy Star certified
An A.J. Perri expert can work with you to determine the best size needed to fit your home, budget, and hot water needs.
Dependable, Warmer Water with A.J. Perri
A.J. Perri offers special financing with approved credit. Contact our customer service today to schedule an appointment. Our experts will work with you to find the best water heater for your home, budget, and hot water needs.
Contact Our New Jersey Water Heater Company
When you call A.J. Perri for water heater services, you'll be doing a lot to keep your home or business warm and comfortable. A properly functioning water heater not only helps maintain the desired temperature of your property, but also prevents costly repairs in the future.
Our expertise as a water heater maintenance company means you can avoid breakdowns that lead to expensive repair work. On top of that, our expert water heater installation service means you'll prevent water damage caused by leaking units as well as mold growth in your walls and other areas. With our water heater services taking care of your equipment, you can lower your energy consumption, save money on your utility bills and extend the lifespan of your water heater.
When you call us for water heater repair services or whatever else you need, you can have peace of mind knowing you'll be taking care of your property in the most efficient and cost-effective manner. Our experienced professionals know what it takes to have your water heater installed correctly and running as it should for a long time. Get in touch with us today to learn more about what we can do for your needs as your water heater replacement company.