Cooling System Repair in New Jersey
---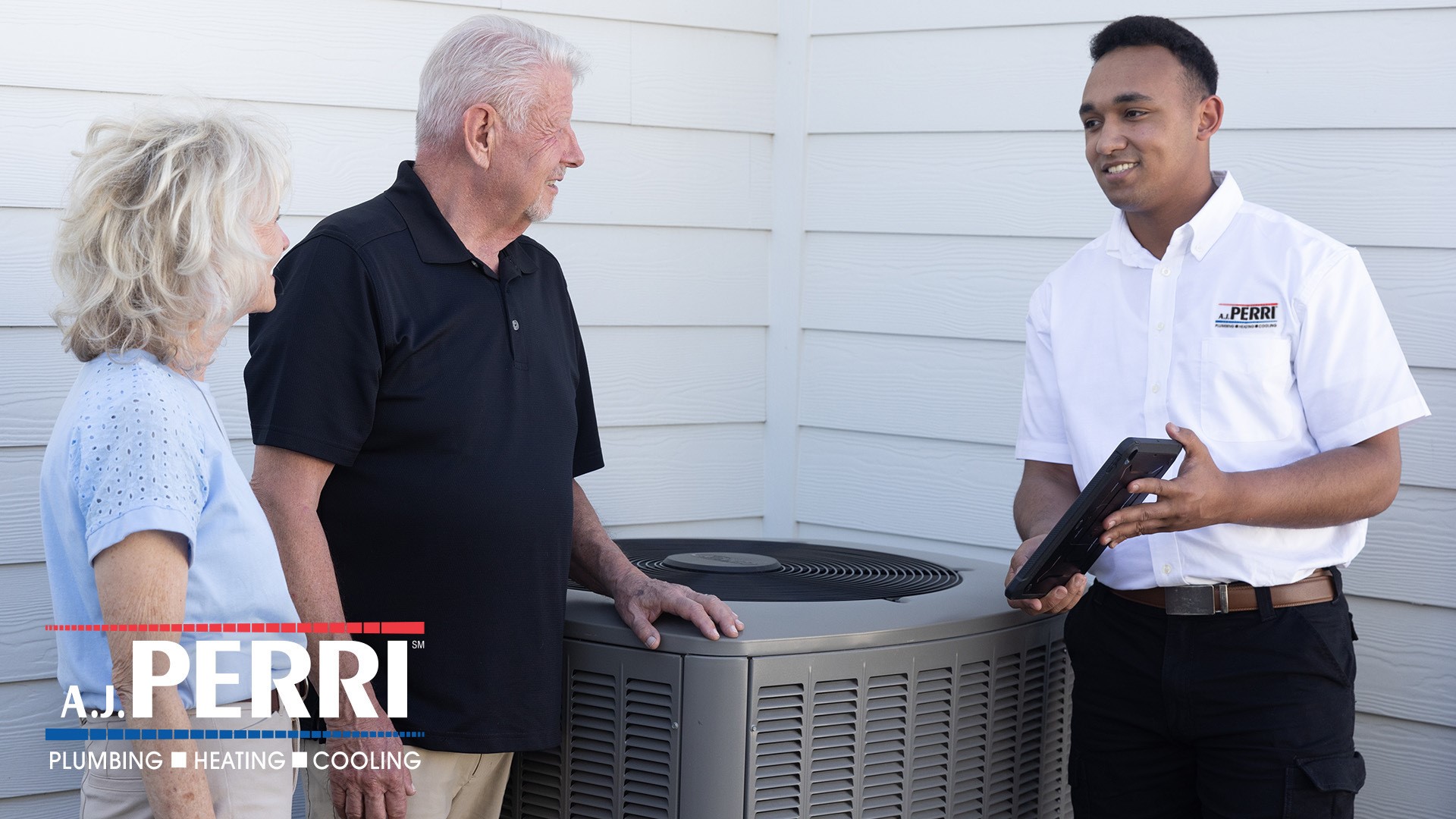 Finding a reliable contractor for air conditioning repair in New Jersey is a necessity, especially during our hot and humid summers. Whether you need repairs or a seasonal tune-up, having a company you can trust is essential to your home comfort.
The last thing you want to worry about in the summer is your air conditioning breaking down. At A.J. Perri, we offer seasonal tune-ups that ensure your system is working properly before the hot, humid summer hits. And by properly, we mean that we've looked for small issues and addressed them to avoid potentially large and expensive repairs, and we've performed maintenance to ensure your system is working at peak efficiency. When your system is working efficiently, it will help save you money in monthly utilities, extend the life of your system, and keep you and your family comfortable day in and day out. 
If you consistently need AC repair for your home, you may want to consider replacing your whole AC system. In fact, now could be the perfect time to buy. Thanks to the Inflation Reduction Act, you could earn tax credits by installing a new energy-efficient system. Under the new act, homeowners may be able save to up to $3,200 on home comfort equipment that meet energy efficiency requirements. For more information on these savings, ask AJ Perri about equipment eligibility. We are not licensed tax professionals, so you should consult a tax advisor for any tax advice and to confirm your eligibility.
If you do need a repair, A.J. Perri has certified, trained technicians who arrive at your home in fully-stocked service vehicles. We are a Carrier® factory-authorized dealer, but service all makes and models of air conditioners.
We make it our goal to meet and then exceed your expectations:
Our industry-certified, trained technicians work days, evenings, and weekends for your convenience.

Carrier ® factory authorized dealer

Fully-stocked service and maintenance vehicles

Service all makes and models

Serving most of our New Jersey neighbors; view service coverage area

Service available 24 hours a day, 365 days per year

Nearly 50 years of award-winning service
A.J. Perri is the best choice when it comes to residential air conditioning repair services.
Install, replace, and service cooling systems

Install, replace, and service thermostats

Complete home zoning

Industry-leading guarantees and warranties

Maintenance agreements for your peace of mind. Ask us about our annual maintenance agreements that cover your plumbing, heating, and cooling systems … and help save you money!
Contact Our New Jersey Air Conditioning Repair Company
When the temperatures spike, you want to know who to call for central air conditioning repair services. It can get pretty hot here in New Jersey, with average temperatures reaching as high as 87 degrees and humidity often making things even more uncomfortable. Calling A.J. Perri to be your air conditioning specialists helps ensure you and your family will remain cool and comfortable even during the hottest and stickiest times of the year.
One of the most important benefits of professional AC repair services is how they can improve the air quality inside your home. When the weather heats up, the air in your house can become stagnant and filled with pollutants such as dust and pet dander. Ensuring your air conditioning system is working as well as it should mean your air is circulated and filtered effectively, keeping your rooms free from harmful particles and reducing the risk of respiratory issues.
On top of this, keeping your AC in good working order also improves the energy efficiency of your system. If yours isn't functioning as well as it is supposed to, it can end up using more energy than is necessary to cool your home. This means you consume more resources, and your utility bills can spike out of control. In addition, proper repair and maintenance of these systems ensure you don't have to worry about problems with your air conditioner.
When you turn to us for professional AC repair, you'll also be extending the lifespan of your systems. These can be expensive to replace, but regular tune-ups and minor repairs can prevent costly breakdowns and ensure yours will continue to work for as long as possible. Investing in expert services means you'll save money in the long run because you won't have to replace your system before it becomes too old.
Why should you keep your air conditioner in good working order? The highest temperature ever recorded in New Jersey was a startling 110 degrees on July 10, 1936, in Runyon. The average temperature in Moorestown is 67 degrees, making it the warmest city in the state.
Living in New Jersey means experiencing some hot and humid summers. The months of July and August are typically the hottest, with average high temperatures in July reaching up to 87 degrees. When you factor in the high humidity, as well, it can become very uncomfortable rather quickly. Having an AC system that you can depend on is crucial, which is why giving us a call makes a lot of sense for homeowners in New Jersey.
For more information on air conditioning service or any other of our products or services, contact us.