Nest Thermostat E
---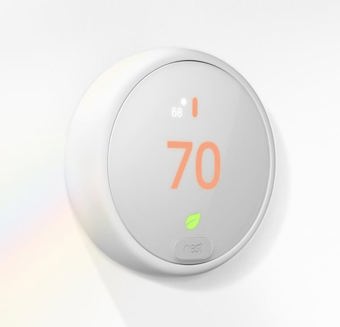 It's easy to save energy.
The Nest®  Thermostat E turns itself down when you're away. You can control it from anywhere. And its frosted display is beautifully designed to blend right in.
Helps save energy. And keeps you comfortable.
The Nest Thermostat E's energy-saving features have saved people an average of 10% to 12% on heating bills and 15% on cooling bills.
Turn it up or down from anywhere.
With the Nest app, change the temperature from the beach, the office or the bed. Mobile notifications and remote control require working internet and Wi-Fi.
Designed to go unnoticed.
The Nest Thermostat E's frosted display blends in beautifully. Up close, everything you see is soft and subtle, like a watercolor. And it all disappears when you walk away.
FAQ
How does the Nest Thermostat E work?
The Google Nest E Thermostat allows you to create effective temperature settings without guessing your needs. The device uses an algorithm to determine the right thermostat temperature, with easy-to-use controls that connect to your home's Wi-Fi system.
Can the Nest Thermostat E help me save money on my energy bills?
The Nest Thermostat E uses sensors and other technology to determine when you need cooling or heating, without thinking about it. When you're out of the house or sleeping, the system changes settings to optimize energy savings.
Do I have to program my Nest Thermostat E?
After Nest E installation, you can allow the system to create settings naturally or set them on your own. The thermostat can learn your preferences over time, or you can adjust a pre-programmed schedule to suit your needs.
What features does the Nest Thermostat E offer?
Besides convenient temperature control, you get several benefits from the Google Nest Learning Thermostat E. You can track the weather forecast or view the inside temperature from the device. Nest integrates with Amazon Alexa and Google Assistant so you can also make adjustments by voice.
How can I control the Nest Thermostat E?
The Nest E-Learning thermostat makes adjusting settings at home or away easy. se the app from any smart device, such as a phone or tablet.
Can I integrate Nest Thermostat E with other Nest products?
Nest E thermostat installation easily integrates with Nest products, such as Nest cameras, smoke detectors, or carbon monoxide detectors. You can control all of these devices by using a single app.
What does Nest Thermostat E cost?
The cost of Nest Thermostat E depends on a few factors, including your location, installation preferences, and where you choose to buy it. Research a few options so that you can compare prices.
Is Nest Thermostat E compatible with all HVAC systems?
Nest Thermostat E should work with most modern heating and cooling systems. Before you buy, confirm that the programmable thermostat can integrate with your system.
How much energy can I save with Nest Thermostat E?
Energy savings with Nest Thermostat E depend on your home size, HVAC system, and heating or cooling preferences. In most cases, installing and using Nest Thermostat E can improve your energy consumption.
Does Nest Thermostat E work on my phone?
You can control your Nest Thermostat E from any smartphone or tablet. You can also adjust settings from a remote location.
Can Nest Thermostat E work by voice command?
Nest Thermostat E works with various of smart technologies, including Google Assistant and Amazon Alexa. By integrating these services with your thermostat, you can change the temperature using voice commands.
Does Nest Thermostat E integrate with other smart technology systems?
The Nest app helps you integrate many smart home services into one. Nest works with various services, such as smart locks, cameras, lighting, etc.
Will Nest Thermostat E work with zoned heating and cooling systems?
Nest Thermostat E allows you to control various zones throughout your home. You can view the settings for each zone, check on your energy consumption, and change temperature seamlessly within the app.
Why should I hire A.J. Perri to install my Nest Thermostat E?
Although you may be able to handle the installation of your Nest Thermostat E, it requires a certain degree of expertise and comfort working with your home's electrical wiring. If you don't know how to do this or don't want the hassle of doing the work on your own, we're happy to arrange Google Nest Thermostat E installation.