AIR CONDITIONING SERVICES & REPAIR IN NEW JERSEY
---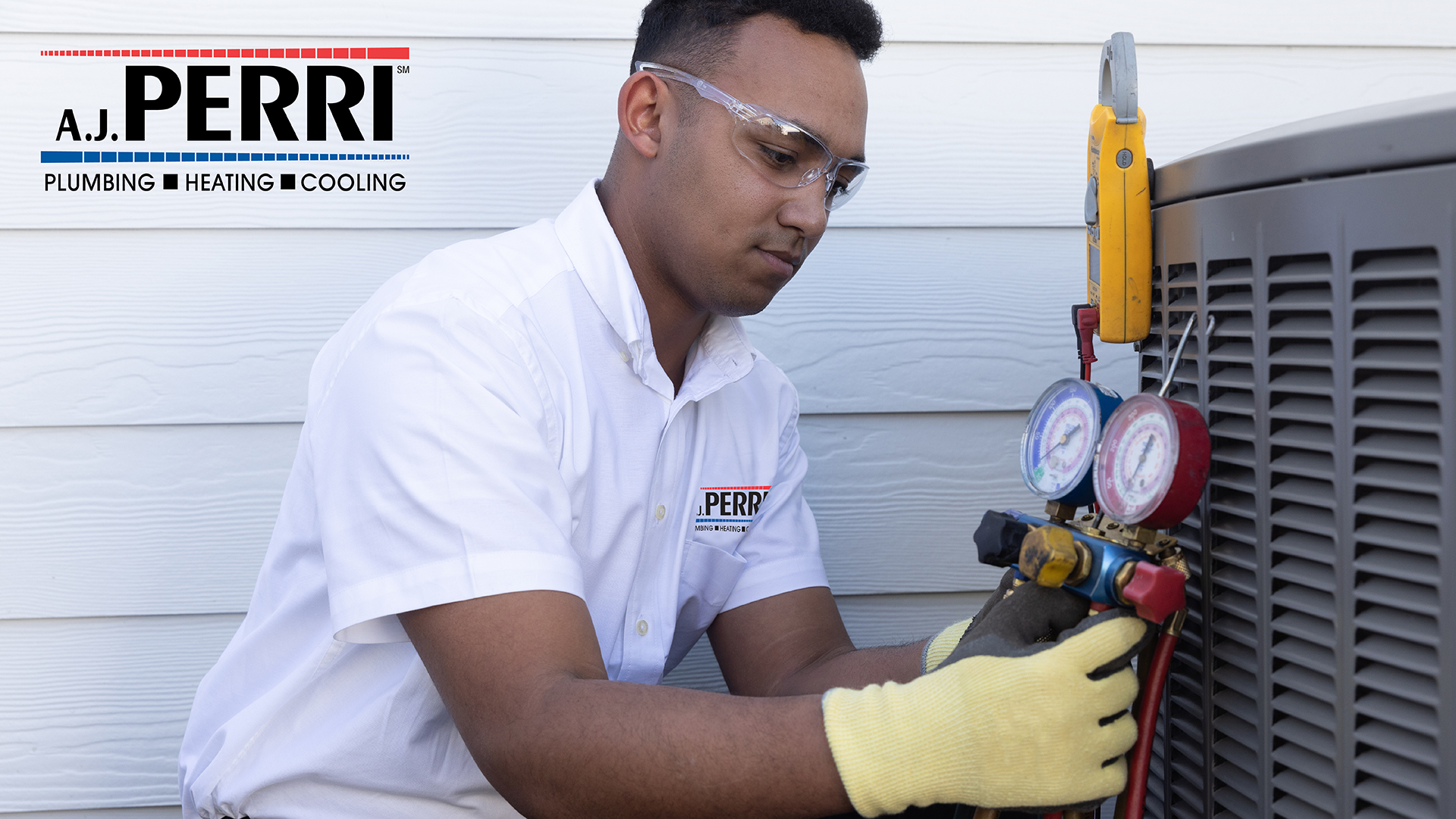 We've been keeping New Jersey homes cool for over 52 years. Our HVAC experience shows with every service call and air conditioning installation we perform. With over 100,000 service calls under our belt, our competency, proficiency, and skill are second to none. At A.J. Perri we're proud of our tradition of excellence.
At A.J. Perri, we have decades of experience and a tradition of excellence that is second to none. You can count on A.J. Perri when your New Jersey home needs air conditioning replacement. Our expert HVAC comfort specialists are here to help you decide if it's best to repair your existing air conditioner or replace it with a new system. It's our job to ensure we are balancing the factors that matter most to you – total costs, total time involved to complete the job, as well as the return on your investment.
AJ Perri is here to help you balance those decisions. In fact, if you're currently considering upgrading your air conditioning system, now is a great time to do so. Thanks to tax credits that are part of the Inflation Reduction Act, homeowners may be able save up to $3,200 on new home comfort products that meet energy efficiency requirements. The pros at AJ Perri are on hand to help answer questions regarding which systems are eligible. Keep in mind, however, that we are not licensed tax professionals, so you should consult a tax advisor for any tax advice and to confirm your eligibility.
Air Conditioning Repair
From routine maintenance to minor and major repairs, our experienced HVAC technicians provide you with reliable, expert service. We make it our job to ensure your regular maintenance provides worry-free performance from your system. Should you need a repair, our technicians work on all makes and models.
Learn about Air Conditioning Repairs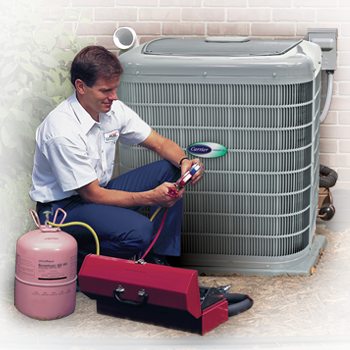 Air Conditioner Products
We are proud to offer a wide range of systems with the ability to meet all comfort and budgetary needs while standing behind our work with a 100% Satisfaction Guarantee. A.J. Perri is proud to be a Carrier® Factory Authorized Dealer.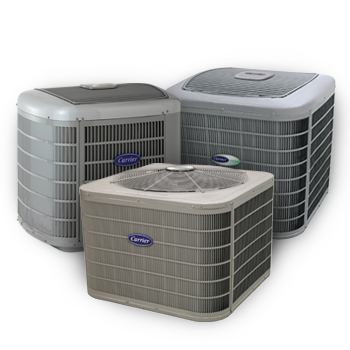 Ductless Split Systems
A ductless split system is exactly how it sounds, it cools your home without utilizing a duct system. Wall-mounted indoor units allow you to control the temperatures on a room by room basis, making it an extremely energy-efficient system. We carry the Carrier line of wall-mounted systems, one of the highest quality and most energy-efficient ductless systems available on the market.
Learn about Ductless Split Systems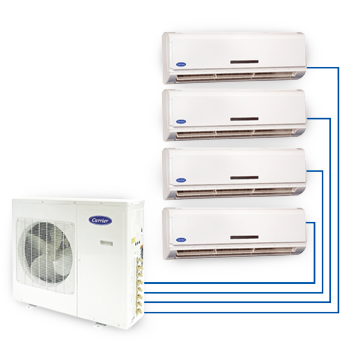 Home Heat Pump Systems
Heat pump systems do the job of both heating and cooling your home, providing you with year-round comfort, all in one! We offer a complete line of Carrier heat pumps that provide efficient, environmentally-friendly comfort all year long.
Learn about Home Heat Pump Systems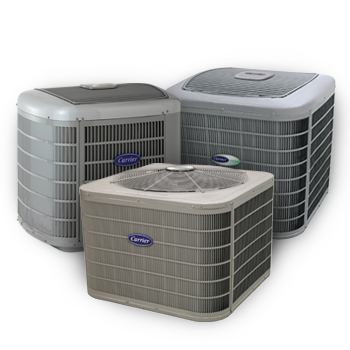 Home Air Handlers
Air handlers, also known as blowers, do exactly what you would expect, they "handle" the air inside your home, delivering warm or cool air throughout your conditioned living spaces. Your air handler plays a significant role in the overall efficiency of your heating and cooling system.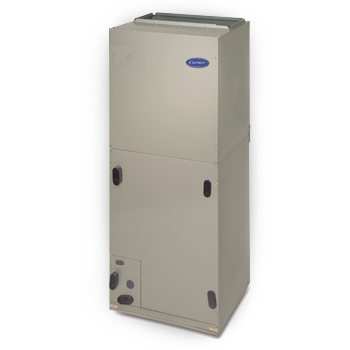 Thermostat Products & Installation
Your thermostat is what controls your HVAC system. Based upon your heating and cooling needs it regulates when the air conditioner or furnace turns on or shuts off to ensure your comfort.  Ask your HVAC comfort consultant how programmable thermostats can improve your comfort and lower your utility bills.
The Right Contractor
Choosing the right contractor can make a big difference in the quality of work, the length for completion on a job, the guarantee on work completed, and the list goes on. Make the best choice for you and your home!
Choosing Your Contractor
New Jersey Climate and Your Air Conditioning System
Although the entire state can feel brutal during the summer, New Jersey has two unique climates. The northern half is a continental climate with hot summers. The southern half is a humid subtropical climate characterized by higher humidity and muggy summer days.
You can expect about 3.5 months of hot summer weather from June to mid-September, with temperatures rising higher than 77 degrees each day. There are regional variations, such as Moorestown, a township with more than a month's worth of days above 90 degrees each year.
High Humidity and Air Conditioning
If you think that the heat and humidity are getting to you, you should know that your air conditioner is feeling the strain as well. The higher the temperature rises, the more your air conditioner has to work to keep it at your desired setting. If your system is undersized or overworked, it may freeze up on the hottest days.
Your air conditioner's primary function is to control moisture, not just temperature. The system extracts moisture from the air to condense and drain outside. A sure sign of a malfunctioning system is moisture accumulation on surfaces, particularly on windows, countertops, and walls. Your thermostat might read the correct temperature, but problems with humidity control can make the home feel hot or muggy. Before turning down the temperature or buying a dehumidifier, you should investigate the issue and determine if there are other causes. Prompt AC services from our air conditioning contractor can result in better output and efficiency.
Benefits of Annual Maintenance
Even a system that is in good general condition could improve with yearly air conditioning services. We recommend scheduling a tune-up for your cooling system once a year in the spring before you start using it to handle the summer heat. Annual maintenance is a key task in making your air conditioner more efficient. We also suggest scheduling service for your heating system in the fall so that you can get the most out of the season.
Annual maintenance is a great way to minimize your risk of problems and give yourself the assurance that the system is ready for the season. Our AC contractors can quickly inspect your system and test it for proper function. By starting off the season on the right foot, you can reduce your chances of having to schedule a repair call on the hottest day of the year.
When to Replace Your Air Conditioner
Sometimes your system does not run well because it is time to replace it. As your system ages, it loses efficiency and is more likely to break down. You will likely notice its function on very hot or humid days. If your unit is not the correct size for your home, it may not provide effective cooling. Systems that are too small have to work harder, wearing out sooner. Systems that are too large cool too quickly, leading to inadequate moisture control. Our AC company can provide professional installation to ensure ideal operation every year.
Call A.J. Perri for Air Conditioning Services Today!
You can have peace of mind knowing that we are here to provide expert air conditioning services. A.J. Perri is the air conditioning company NJ residents trust, with more than 40 years of service in Monmouth County and other parts of New Jersey. Contact us today!