Gas Furnace Repair & Installation Services New Jersey
---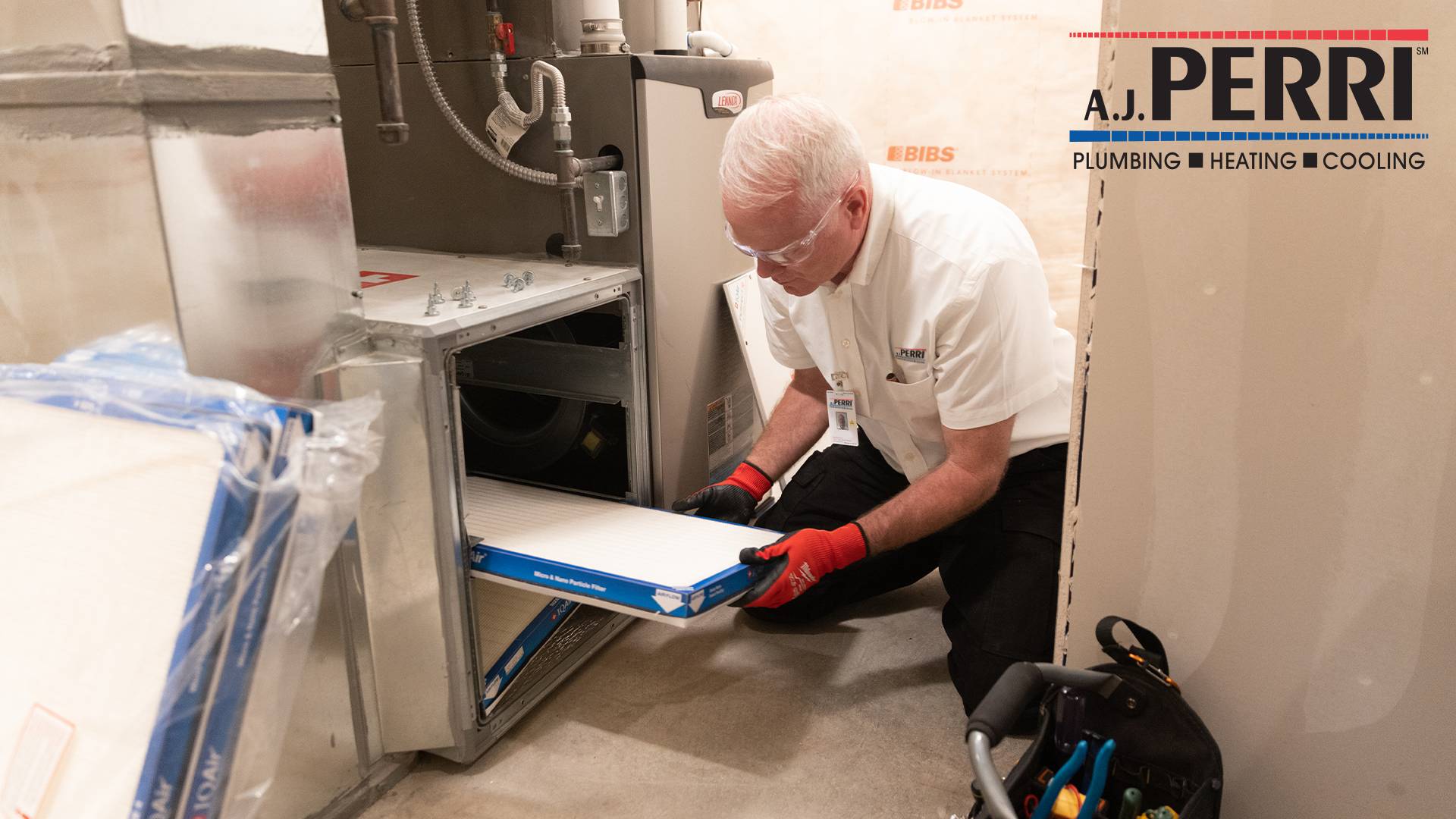 It's not uncommon for temperatures to drop below freezing each winter in New Jersey. When the arctic wind blows through, you'll want to make sure your family remains comfortable indoors. Comfort is critical and one of the reasons we at A.J. Perri offer top-of-the-line gas heating services and products to keep your family warm on even the coldest days.
Gas furnaces come with quite a few benefits:
Typically, less expensive
Generates less carbon dioxide
Less equipment maintenance
Fuel provided by a utility company
Not dependent on electricity
Odorless
When it comes to finding a gas furnace in NJ. that fits your home and your wallet, you shouldn't expect anything less than excellence from A.J. Perri. We are a factory-authorized Carrier dealer, bringing a quality product to your home with the revolutionary ComfortHeat technology.
ComfortHeat technology manages your furnace's heating stages to maintain a more consistent indoor temperature, allowing your system to offer high performance while using the least amount of energy.
Carrier furnaces offer:
High efficiency means saving you up to 23 percent in annual heating costs
Improved dehumidification means a more comfortable home
Ultra-quiet operation and maximum comfort for your family
Each furnace offers a media filter cabinet for easy filter replacement
Adaptive Control Technology for the thermostat
We know from the moment you choose a Carrier gas furnace, you'll know it was the right fit for your home. We're so confident we offer our exclusive 100% Satisfaction Guarantee. Learn more about our installation process and how to get your furnace today by giving us a call.
Furnace Repair, Service and Installation
Our winters can certainly be harsh. At A.J. Perri, we're here for all of your heating repair, installation, or replacement needs so you stay comfortable.
Learn about Heating System Replacement
Stay Warm in New Jersey With Efficient Gas Furnaces
New Jersey residents depend on their home heating systems to keep them comfortable even as winter rages outside their doors. The Garden State typically experiences a wide range of temperatures throughout the year, with wintertime often bringing extreme cold as well as freezing winds and heavy snowfall. In particular, Nor'easters can result in conditions that include below-zero conditions.
When the mercury drops, homeowners need to take care that the pipes inside their houses don't freeze and burst. This can result in serious water damage and costly repairs. Insufficient heating systems also can lead to uneven heating in certain rooms, which can be uncomfortable and lead to high utility bills. If you want a solution to these issues, a gas furnace might be your best bet.
Gas furnaces are designed to provide effective, efficient heating in a wide range of temperatures, making them one of the best options for keeping your home comfortable in New Jersey. These systems utilize natural gas to generate heat, which is distributed throughout the home through your ductwork. Today's models are highly energy-efficient, meaning they could help you save a lot of money on your utility bills.
You can only take full advantage of these qualities with proper installation and maintenance of your system. Call A.J. Perri to provide comprehensive gas furnace services. Our experienced technicians can handle gas furnace installations as well as gas furnace maintenance service and repair work. With our help, you can ensure your new heating system will provide you and your family with comfort all year long. We can diagnose and fix any potential issues before they have a chance to become bigger problems, saving you time and money in the long run.

Frequently Asked Questions
Are gas furnaces safe for homes?
Yes, gas furnaces are safe to use for heating your home. However, that's only if you make sure yours is installed and maintained by experienced professionals. This is the best way to ensure the safety and efficiency of your system.
Are gas furnaces energy efficient?
Gas furnaces are very energy efficient, which is another good reason to add one to your home. In fact, they have a high Annual Fuel Utilization Efficiency (AFUE) rating, which means they provide a high amount of heat for the amount of natural gas they burn. With regular maintenance and upgrades, you can boost your unit's efficiency even further.
How often should I have my gas furnace serviced?
We recommend that gas furnaces be inspected and serviced by our professional technicians at least once a year. This ensures that any potential problems yours might be experiencing can be straightened out before they become more serious. When you get in touch with us, we can provide expert service to keep your furnace in good working order so it will work when you need it.
What are the signs my gas furnace needs repairs?
Some of the most common indicators of trouble with a gas furnace include uneven heating, odd noises, frequent cycling and higher-than-expected energy bills. If you experience any of these, it's a good idea to get in touch with us to have complete gas furnace repair services from our trained professionals.
Can I install a gas furnace myself?
No — you should only call an experienced gas furnace replacement company to handle this kind of job. Improper installation can lead to dangerous situations and inefficient operation. We'll make sure the job gets done right so you won't have to worry about a thing.
How long does a gas furnace last?
If kept properly maintained, a gas furnace can last for up to 20 years. With regular maintenance and repairs performed by our trained professionals, you can ensure yours operates efficiently throughout its life.