Sewer Pipe Repair and Replacements
---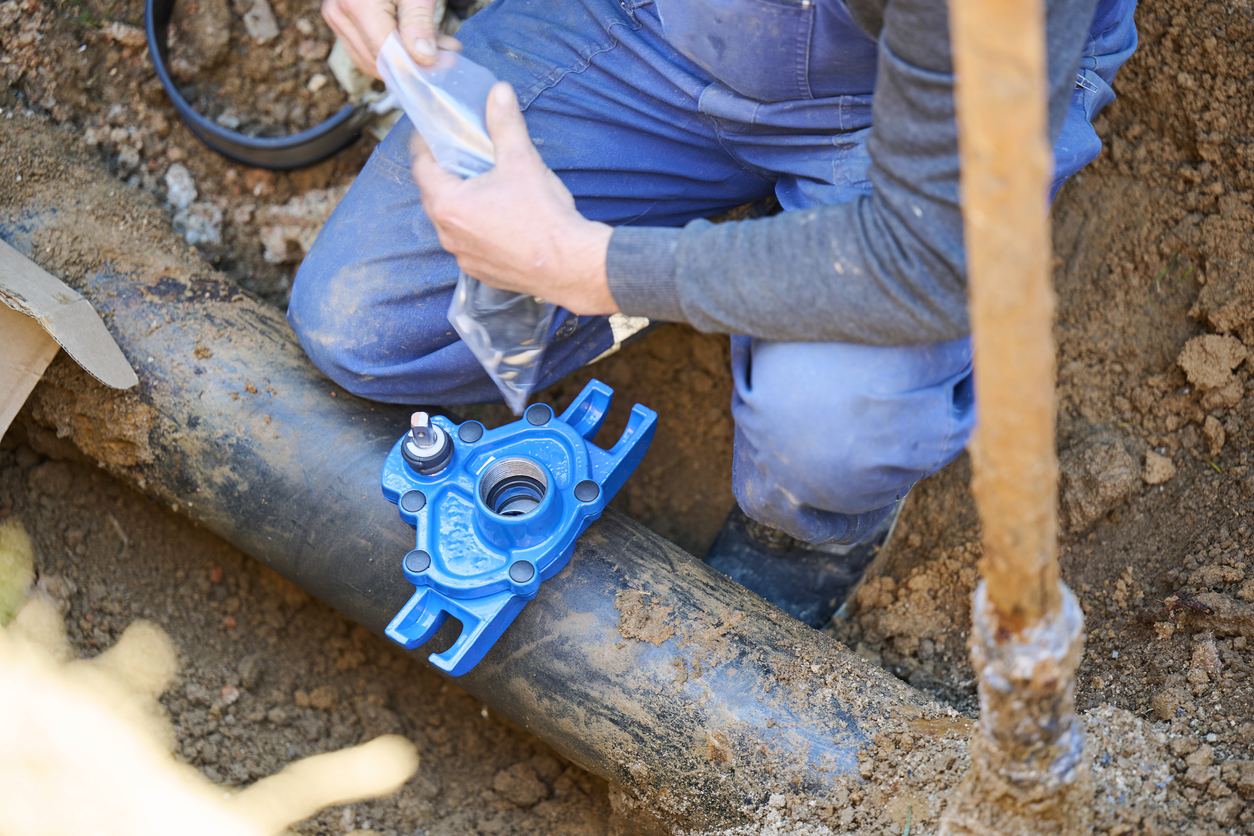 Did you know the pipes underneath your home and the pipes leading to the sewer main in the street (called "laterals") can back up and even fail completely? It's true!
Depending on the type of material from which your pipes were constructed, tree roots and foreign objects can completely block the flow of wastewater, causing your pipes to "belly" or even collapse.
At A.J. Perri, our water line repair services experts have both the tools and the expertise to:
Understand the current condition of your pipes using sophisticated camera technology.
Repair

the sewer pipe if it is reasonably accessible,

adequately

sized, and has an acceptable life expectancy after the repair.

Replace

the sewer pipe if it is made of inferior materials, is undersized, bellied or collapsed due to deterioration. A

genuinely worry-free solution!
Should it be determined that replacement is the best option, there are several ways to attack the problem, ranging from the least-invasive (trenchless pipe bursting) to the most common method – excavation.
By selecting A.J. Perri, you CAN'T LOSE:
Best plumbing and excavation company in the industry
Written proposal and upfront pricing before work begins
Only

NJ-licensed company where a Master Plumber reviews every job proposal

We use only products that are made to last
Safe, efficient, quality installation
Reliable, hassle-free, 24-hour service
Peace of Mind!
Warranties and guarantees:
Main Water (Full Line) Replacement
10-Year Labor & Lifetime Materials Warranty
Main Sewer (Full Line) Replacement
10-Year Labor, 10-Year Stoppages & Lifetime Materials Warranty
Sewer Repair (Partial Line)
Lifetime Parts, 1-Year Labor & 1-Year Stoppage Warranty
Main Water Repair (Partial Line)
Lifetime Parts & 1-Year Labor Warranty
How New Jersey's Climate Can Affect Your Sewer
New Jersey has a climate with plenty of seasonal variability and a profound amount of moisture, which can harm your home's sewer.
During heavy snowfall and rain, sewer systems tend to flood (particularly in the north-central area of New Jersey). Severe flooding harms pipelines, sometimes leading to sewage backing up in people's dwellings. 
Moreover, each winter's cycle of freezing and thawing can lead to broken or cracked pipes, resulting in additional damage to your property. Sometimes, the best option is main sewer line replacement if sewer line repair services won't address the issue.
In New Jersey's coastal regions, homes are subject to damage from storm surges and high tides flooding local sewers. Because of the difficulties in fixing a clogged sewer line or damage from such extreme weather events, you'll want to hire sewer repair and replacement services experts, such as the team at A.J. Perri.
Our professionals offer preventive maintenance services and are standing by to repair any damage to your sewers. We'll also help you safeguard your home against future storm damage. 
With A.J. Perri in your corner, you minimize the chance of expensive sewer repairs or having your home life affected by a backed-up sewer. We have a reputation in the industry for our main water line replacement expertise.
A.J. Perri Answers Our Customer's Most Frequently Asked Sewer Questions
What is the purpose of sewer pipes?
These pipes move wastewater out of buildings, from homes to industrial facilities, for treatment at a municipal facility.
How do I know if a sewer pipe is broken?
Backed-up sewer
Bad smells
Gurgling sounds
Drain slowdowns
How long can we expect our sewer pipes to work?
Sewer pipes tend to endure 30 to 100 years, based on the material they're constructed from.
How does A.J. Perri fix sewer pipes?
Excavation
Pipe bursting
Pipelining

Should homeowners attempt DIY sewer pipe repairs?
We do not recommend that you try to change or fix your sewer pipes. Those without training and experience can endanger themselves or break pipes or other equipment.
What are the main reasons sewer pipes fail?
Old age
Corrosion
Improper installation
Shifting ground
Tree root infiltration
Do you repair broken sewer pipes or replace them?
If damage is extensive, we may determine it's time for a replacement. But with less damage, fixing it with a patch or liner is possible. We're known for offering sewer line replacement New Jersey homeowners can depend on.
What is the cost to repair or replace our sewer?
The price to fix or replace your sewer will be based on where the pipe is, how much damage occurred, and the approach needed to fix it. A.J. Perri will give you a customized estimate.
How much time do we need to budget for sewer pipe replacement or repair?
The sewer pipe repair or replacement time depends on our methods and how damaged the system is. After inspection, we can give you a more precise estimate.
What is the benefit of hiring a professional to replace or fix my sewer?
You'll have peace of mind  knowing experts are doing the job properly, with safety and efficiency guiding them. The complexity of sewers makes them challenging to fix or replace. You can make matters worse and even more dangerous without training, leading to more expensive repairs. 
Since sewer pipes are crucial for managing wastewater in New Jersey, you must keep them working correctly. If you suspect your sewer pipes require repair or replacement, you'll want to connect with the professionals at A.J. Perri. 
Our experience, training, and knowledge make us the preferred provider of sewer system services. If you have questions about sewer inspections, replacement, or repairs, contact us today!