UV Germicidal Lamp Installation
---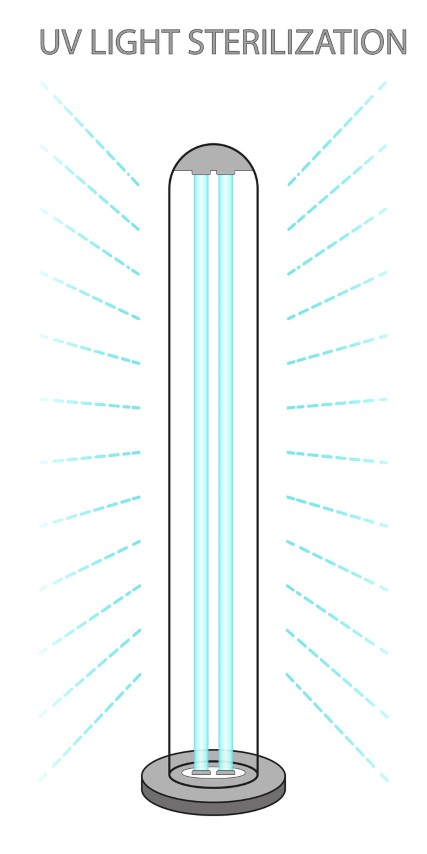 The U.S. Environmental Protection Agency (EPA) cites indoor air pollution as one of the top five growing concerns in our country today. "As [we] spend most of [our] daily lives in homes, offices, schools, health care facilities or other buildings, the quality of the air [we] breathe indoors is critical for [our] health and well-being," says Dr. Srdan Matic, Unit Head, Noncommunicable Diseases and Environment at the WHO (World Health Organization, 2009). A UV germicidal lamp can help.
Modern air sterilizers and whole-house duct cleaning help improve your health and safety. They eliminate molds, bacteria, and germs from source and recirculated air. As a result, they keep your entire home cleaner and healthier. These systems:
kill bacteria and mold growing on the indoor coil
enhance indoor air quality
operate silently
enhance airflow
minimize microbial build-up on coils, and
help Improve system efficiency
Germicidal UV Lamps Keep Coils Free of Mold and Bacteria
The potential mold and bacteria growth on your air conditioning coils is a result of normal condensation that takes place during the cooling process. UV Germicidal Lamps are designed to kill mold and bacteria. They break down their DNA using technology that has been trusted for over 60 years. These lamps are used in water purification, the food processing industries, hospital operating rooms, and more. The addition of a UV Lamp to your home comfort system reduces your family's risk of allergic reactions and illnesses. In addition, they eliminate the foul odors associated with such growth on the coil.
A.J. Perri is proud to offer the Fresh-Aire UV APCO™, the next generation in IAQ improvement technology. Fresh-Aire UV helps sanitize the air and reduces VOC (Volatile Organic Compound) contamination in your home.
Fresh-Aire UV is recognized the world over as a leader in the areas of UV light disinfection and indoor air quality (IAQ). Moreover, the APCO Fresh-Aire UV System recently won the 2011 AHR (International Air Conditioning, Heating & Refrigeration) Expo Innovation Award.
Here are some of the benefits of UV Lamps …
Health: 50% of illnesses (such as colds and flu, allergies and asthma) are caused or aggravated by mold, mildew, bacteria, and fungi according to the American College of Allergists.
Comfort: You can enjoy a home free of mold and mildew in your heating and cooling system. Additionally, you can eliminate the odor caused by mold and mildew.
Equipment Protection: Accumulating mold and mildew makes your heating and cooling system work longer and harder. As a result, this can lead to untimely repairs. Also, it can lead to having to replace your system long before you should have to.
Energy Savings: A Whole-Home UV Germicidal Lamp saves you money on your utility bills. Also, it allows your home comfort system to run less often, for shorter periods of time and at peak efficiency.
For more on this or any of our other products and services, please contact us. Don't forget to ask us about our exclusive 100% Satisfaction Guarantee!