Heating System Tune-Up in New Jersey
---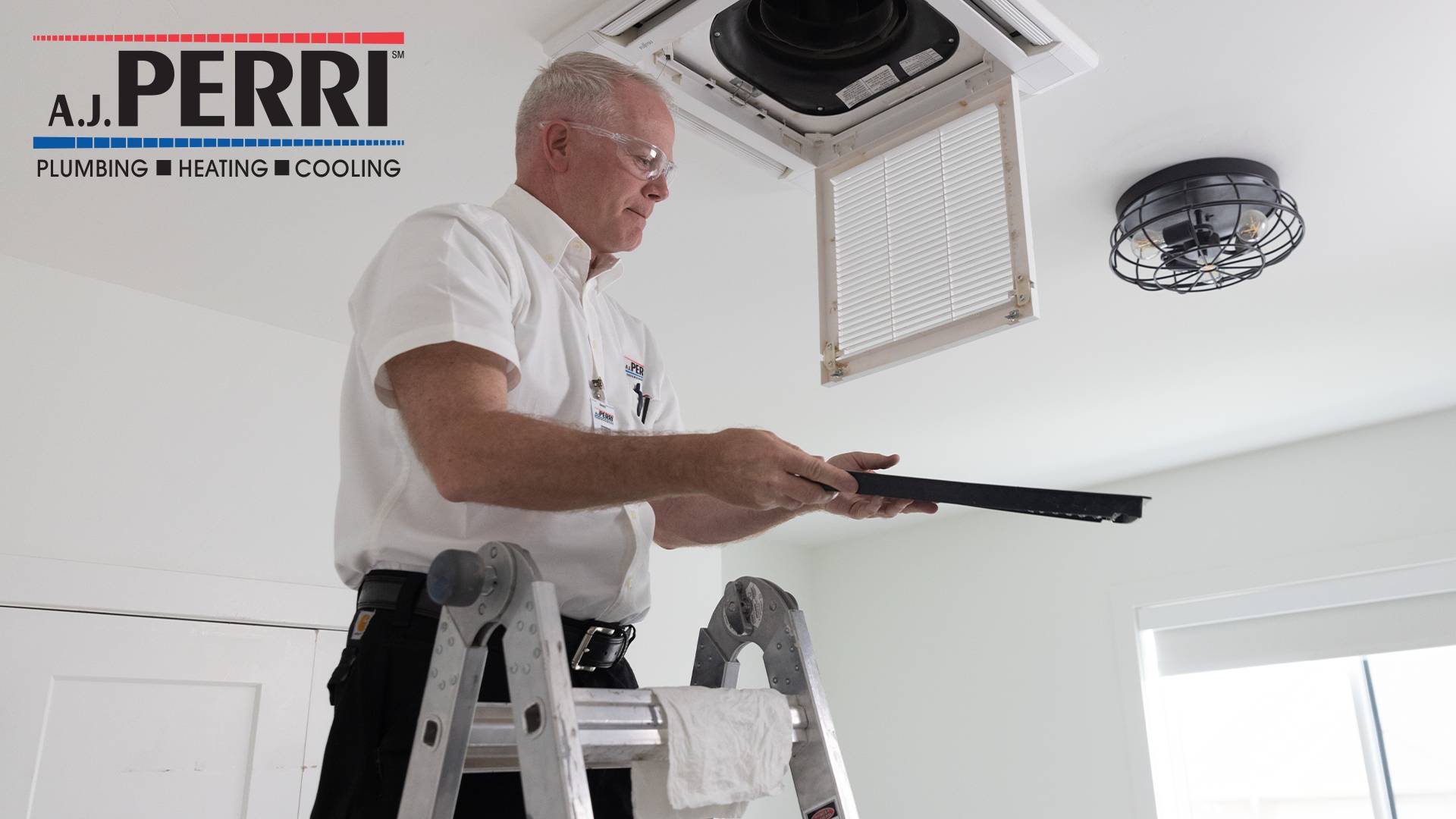 Your heating system, much like your car, requires regular maintenance to ensure reliability and efficiency. Regular maintenance is also the key to reducing repairs and helping to extend the life of your system.
We have reviewed hundreds of repair calls over the years. In doing so, we discovered that over 50% of these calls could have been avoided with regular maintenance. As a result, we have developed a thorough 21-step tune-up for heating systems. It helps cut down on expensive repairs and to increase your system's efficiency, which saves you money.
Our Trustworthy Tune-Up
A heating system tune-up is one of the easiest ways to help save money in the long- and short-term. Increased reliability and efficiency, reduced repairs and extended life of your equipment – those all mean money in your pocket!  And at A.J. Perri we're so confident in our service we offer a money-back guarantee. If your system breaks down this season AFTER our precision tune-up service, we'll refund you 105% of the cost of the tune-up*. 
Our 21-STEP PRECISION TUNE-UP and professional cleaning are done by an expert technician, who will arrive on time, and complete the job in about one hour.
Furnace Tune-up
Combustion analysis for increased safety and efficiency
Check airflow duct system for carbon monoxide
Test for natural gas leaks
Test exhaust system for proper venting
Test safety & control circuits for proper operation
Inspect filter, 1" standard filter replaced as needed
Clean furnace exterior.
Check and level thermostat.
Tighten and inspect all electrical wiring.
Measure amperage and voltage of blower.
Lubricate all moving parts per manufacturer specs.
Inspect pilot burner.
Clean and test thermocouple for proper operation.
Check condensate drain line.
Vacuum and inspect burners.
Lubricate blower motor and clean air vents.
Inspect and adjust fan belt tension.
Measure temperature difference, supply/return.
Test ignition system for safe and proper operation.
Inspect for combustible material around the furnace.
Heat exchanger visual and camera inspection (if accessible).
Boiler Tune-up
 Test ignition system for safe & proper operation
Inspect the Pressure Relief Valve
Test exhaust system for proper venting
Visually & camera inspect heat exchanger for wear & cracks
Test for natural gas leaks
Level thermostat if needed
Inspect the circulator
Inspect for combustible materials around furnace
Test safety and control circuits for proper operation
Inspect the water feed
Inspect and adjust fan belt tension
Vacuum and inspect burners
Inspect the Low Water Cut Off
Clean and test thermocouple for proper operation
Inspect pilot burner
Lubricate all moving parts per manufacturer specs
Tighten and inspect all electrical wiring
Clean furnace exterior
Inspect the Zone Valves
Make sure all zones are getting hot
Replace the gauge glass (for additional cost)
* With a copy of the invoice reflecting no outstanding recommendations for equipment repair or replacement and within 120 days of invoice.
Why Your Heating System Needs a Tune-Up
There's no doubt that New Jersey has cold winters. It's not just the state's position on the 40th parallel, placing it on a similar latitude with Indiana, Colorado, and Northern California. With water surrounding New Jersey on three sides, it is vulnerable to freezing air from the north and higher precipitation from the south. February tends to be quite chilly, with an average high of 47 degrees Fahrenheit and a low of 40 degrees Fahrenheit.
With temperatures like this, it's clear that you need a functioning heating system in New Jersey. Cold air and blowing snow underscore the importance of a furnace in good working order. Having a furnace that works is an investment in your comfort and safety. When the temperatures drop, you need to maintain the interior temperature to avoid risking your health and to keep your home's systems intact. To achieve these goals, you'll need heating maintenance services. An annual tune-up for your furnace or boiler helps ensure that your system is ready for an entire season of cold and precipitation and maintains energy efficiency. It also minimizes the likelihood of problems, such as a sudden breakdown or carbon monoxide poisoning.
When to Schedule a Heating System Tune-Up
Scheduling a heating tune-up service is the best way to confirm that your furnace or boiler is equipped to handle the season. You should plan to request one each year in the early fall. If you're a little behind schedule, it's not uncommon to notice that your heating system isn't working as it should. Here are a few signs you can watch for so that you know when to call for boiler maintenance service:
A sudden increase in energy usage: A furnace or boiler that is starting to fail will probably show it through a loss in efficiency. If your bill suddenly jumps, and you can't match it to a rapid change in outside temperature, you may have a problem.
Inconsistent heating: Furnaces and boilers are supposed to provide consistent heating throughout the home. If you have rooms that are too warm and rooms that are much colder, you might need to check your HVAC equipment and ductwork.
Indoor air quality problems: Furnaces filter debris and contaminants from your indoor air, but they can get clogged. Plan to replace your furnace filters at least a few times a year to keep your home cleaner and improve your indoor air quality.
Strange odors: Furnaces and boilers should not produce odors. If you smell burning or rotten eggs, you need to call our furnace maintenance company for prompt attention.
Unusual noises: You'll notice a little sound while your heating system is running. Banging, scratching or screeching are not normal, and require investigation.
You deserve to have a heating system that works as you expect, especially during the cold winter months in New Jersey. Regular maintenance can make a significant difference in your heating system's output and efficiency. For boiler maintenance service and the heating maintenance NJ residents trust, contact A.J. Perri to schedule a tune-up.