Smart Home
---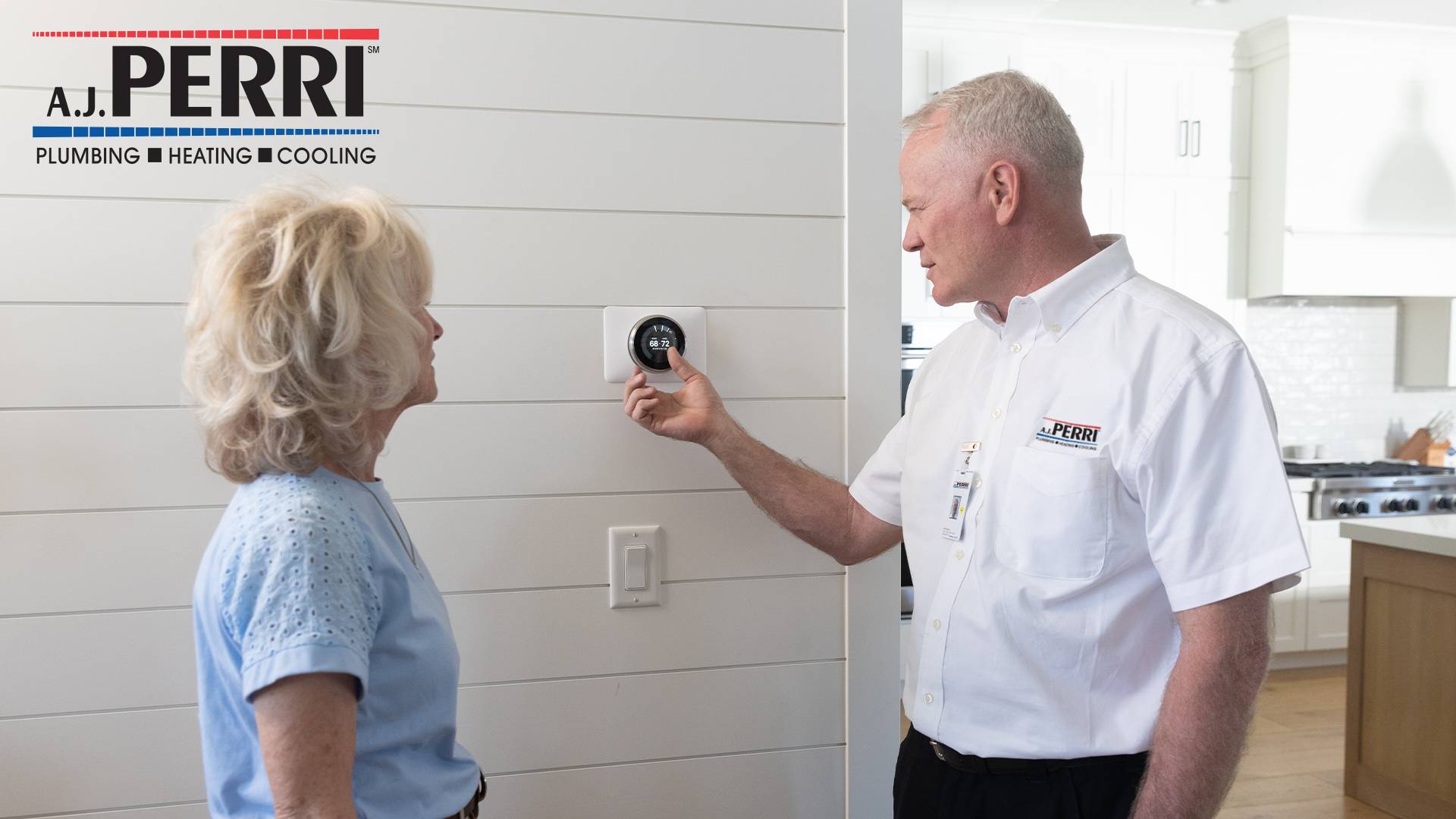 Why Google Nest?
At A.J. Perri, we believe in providing the highest quality products for your home. Google Nest® products are just that – the best. From thermostats that program themselves to HD cameras that allow you to see in the dark, Google Nest smart home products help you save energy, keep your family safe, and stay connected to what's important, all with superior design and support. Plus, A.J. Perri is now a Google Nest Pro Elite Installer!
As a Google Nest Pro Elite Installer, we are proud to offer and install the following innovative products: the Nest Learning Thermostat (3rd generation), Nest Protect smoke and CO alarm, Nest Cam Wi-Fi video camera (indoor and outdoor), as well as Google Home and Google Wi-Fi.
Google Nest Thermostat 
Programs itself and can pay for itself in under two years.
Simple to adjust, easy to read.
Control from anywhere, anytime, using your smartphone.
5-year warranty with A.J. Perri Installation.
Google Nest Thermostat E
When you change to an energy-saving temperature, you'll see the Google Nest Leaf.
Up in the morning, down at night. Adjust it whenever you like from the Google Nest app.
It uses your phone's location to know you're away.
With our energy partners, you can get rebates, rewards, and other ways to save.
Nest Protect
Early warning detection for CO or smoke emergencies.
Notifies you in case you're not at home.
Pinpoint the emergency area in your home immediately.
5-year warranty with A.J. Perri Installation.
LeakSmart
Notifies you if there's a water leak and shuts off your water main.
Alerts you to turn off your HVAC unit if a leak is detected nearby.
Reminds you to turn off your water main if you are away for more than 48 hours.
Nest Aware
Two subscription plans to choose from.
Upgraded and easy to migrate.
Get alerts that matter.
Your Smart Home Shouldn't Be Dumb
When products work with Google Nest, you don't have to tell them how to connect. Or what to do. They just work. In real homes for real people.
Just look for the Works with Google Nest logo. Today a ton of brands you already use connect to Google Nest, like your Philips Hue lights and Whirlpool washer. And more are coming every day. Learn More 
FAQ
What is Google Nest?
Google Nest provides various smart tools that you can use to automate home systems or make them more efficient. Nest products help you control a variety of home systems, from lighting and sound to heating and cooling. A Google Nest® smart home contains sensors that allow you to personalize settings for the way you live without compromising home comfort or security.
Why should I consider using Google Nest in my home?
Google Nest offers several benefits for your convenience, comfort, and energy efficiency. A range of products help you streamline control of your home from a single app whether you are at home or away. Nest devices can learn your preferences independently or allow you to create your own settings, so you get the most out of each system. 
Why should I hire A.J. Perri to install Google Nest?
When you call A.J. Perri for Google Nest® installation service, you get the benefit of our expertise and professional training. Our technicians have years of experience installing, integrating, maintaining, and replacing Google Nest devices. We can help you assess your home and determine the best ways to improve your smart home technology.
Can A.J. Perri help me save money with Google Nest?
Hiring A.J. Perri as your smart home solutions company provides more than an effective installation service. We can advise you on the ideal devices to meet the unique needs of your household. Our technicians can also help you maximize the performance and efficiency of each system, from security to home heating and cooling.
Which smart devices does Google Nest offer?
Google Nest offers a selection of devices that allow you to enjoy a more comfortable home without having to work harder to get it. Each device seamlessly connects with your Nest thermostat, making it easy to control lighting, doorbells, cameras, speakers, and more, all from a single convenient app.
Is it possible to DIY install Google Nest?
Handy homeowners may want to handle installation of Google Nest devices, but you get more benefits by hiring A.J. Perri as your smart home company. Our technicians have experience working with wiring and connecting devices to your electrical, HVAC, and plumbing systems. We can ensure a professional installation while you sit back and relax.
Does DIY Google Nest installation present risks to me or my home?
Attempting to install Google Nest devices yourself may increase the risk of injury or damage to your home. Installing and integrating devices requires you to work with electrical wiring, which can create safety hazards for people who don't know how. Additionally, you run the risk of damaging the equipment or voiding the warranty.
How long does Google Nest installation take?
The time to perform smart home installation service depends on your home and the number of devices you need to install and integrate. When you request a consultation, our technicians can outline a set of expectations and give you a range of time for the completion of the project.
How can improper installation cause problems with Google Nest?
Without proper installation of your smart home in New Jersey, you may not get effective performance from your Google Nest devices. Improper or DIY installation often results in damage to your electrical wiring, faulty integration of devices, or a failure of the system to connect to your home's Wi-Fi.
What is the best way to install Google Nest?
If you want to avoid most common problems with installing Google Nest devices, you should call our technicians to do the work. We can ensure that your system works well with the layout and flow of your home, providing seamless function with your home systems.