New Jersey's No. 1 Choice for HVAC & Plumbing Services
HVAC & Plumbing Specials
$123 Main Drain Line Cleaning or It's Free!

If we are unable to open your main sewer line drain, you will not pay the cleaning fee. Offer valid for cable of main sewer line up to 100 ft. Proper cleanout access required. Valid at participating ARS® Network locations. Not valid for third party, new construction, or commercial customers, with any other offers, discounts, or on prior sales. Call service center for details. Coupon required at time of service. Void if copied or transferred and where prohibited. Any other use may constitute fraud. Cash value $.001. Offer expires 12/31/2023.

$50 Off Any HVAC Repair

$200 minimum purchase required. Excludes Service Call Fee. Valid only for residential customers. Not valid with any other offers, discounts, or on prior sales. Void if copied or transferred and where prohibited. Any other use may constitute fraud. Cash value $.001. Offer expires 12/31/2023.

SERVING THE ENTIRE NEW JERSEY AREA

Why Choose A.J. Perri
At A.J. Perri we like to treat our customers as extended family members. Our decades of experience and solid roots in our community are the reason customers rely on us for our quality products, spectacular customer service, and affordable choices. Since 1971, we have been 100% committed to bringing total comfort and satisfaction to every homeowner who calls on us for service.  
In addition to our amazing, licensed technicians and highly trained plumbers, we also give back to our community by contributing and supporting a variety of charitable organizations including St. Jude Children's Research Hospital, Habitat for Humanity, our local YMCA, and others.  
About Us 
About A.J Perri 
Since 1971, A.J. Perri has been delivering top-notch heating, air conditioning and plumbing services to homeowners in Monmouth County and beyond. We began as a family business with a team of three workers and have expanded to a team of over 300 employees with 185 vehicles. We are proud to operate as a part of the American Residential Services network and continue to grow and learn as we bring 5-star service, quality products, and total comfort satisfaction to clients throughout our New Jersey area.  
Customer Reviews 
It's Official—We Are Loved! 
Our customers make us smile. Check out our reviews to learn why our community is always saying: I love those guys! 


Frequently Asked Questions
If my drain is clogged, should I use a chemical drain cleaner before I call a plumber?
Using drain cleaner to manage clogs is dangerous and usually less effective than calling a plumber. Chemical drain cleaners have a list of toxic components, which means that you must store them properly and keep them away from children or pets. Once you pour the cleaner down the drain, you run a number of risks. These cleaners are supposed to dissolve debris and hair, but there's a good chance they will damage your pipes as well. No one wants to replace a drain line after just a few applications. All those chemicals end up in the water supply, too. If you need an alternative, consider drain maintenance products with beneficial bacteria and enzymes that dissolve blockages naturally.
Should I get a Maintenance Agreement with A.J. Perri?
Absolutely. According to a major manufacturer of heating and cooling systems, Carrier, proper maintenance can help your unit last for years longer. On the flip side, a neglected system loses roughly 5% of its efficiency each year that it operates without upkeep. So that "green" machine that you bought to stay cool (or warm) could start to function like the most inefficient thing on the market, if you fail to perform regular maintenance.
How do I know if I should repair or replace my current heating and/or air conditioning system?
If you're not sure whether you should repair or replace your current system, there are three categories that can help you decide:
Lifespan: Most HVAC equipment has a lifespan of 10 to 15 years. As you approach that first threshold, each repair should compare to the cost of replacement. With good upkeep, your system might last to the maximum. Still, it's a good idea to ask our heating and cooling company technicians to provide a professional opinion about your equipment's estimated lifespan and the best investment for you.
Efficiency: Generally, manufacturers increase efficiency with each new model. The older your model gets, the worse its efficiency will be compared to the latest options, even if it's working at peak output. Our HVAC heating and cooling service can show you how much you could save, or enjoy greater comfort, with a new, efficient system.
The unit's overall condition may be the biggest factor in determining your best choice. A unit with great maintenance from our heating and air conditioning company might last years longer, especially if the repair isn't major. By comparison, a unit with lapsed maintenance and several prior breakdowns is probably better to replace. We're happy to help you compare prices and make a decision.
If you're still weighing out your options, contact our HVAC heating and air conditioning service for expert advice.
ACCREDITED & TRUSTWORTHY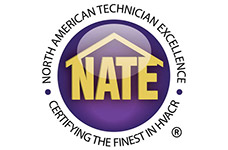 Our HVAC technicians are North American Technician Excellence certified, the highest level in the industy.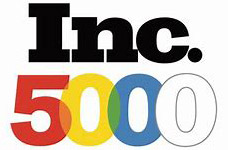 Recognized by Inc. 5000 Top Private Companies.