Thermostat Products & Installation
---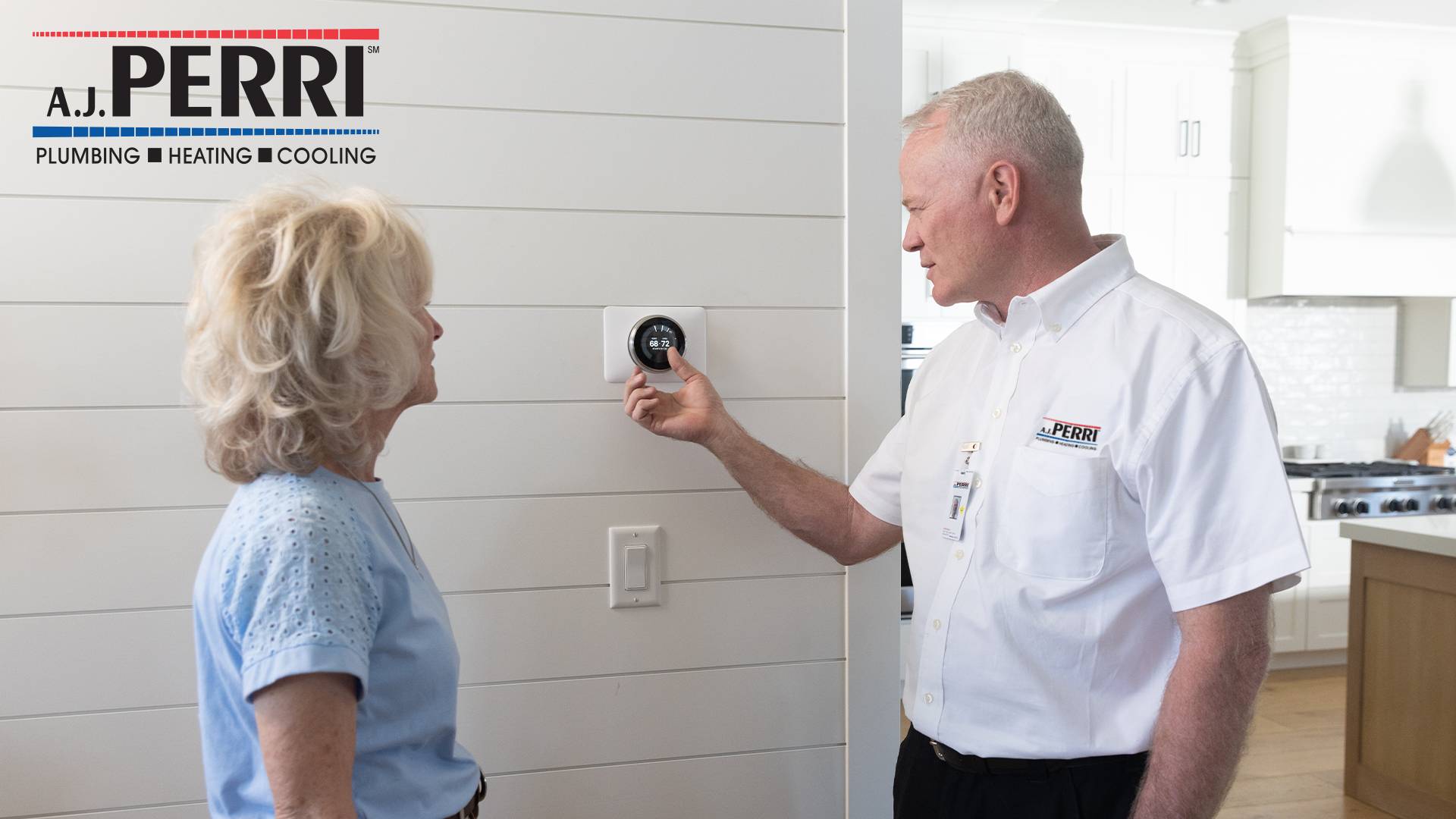 Your thermostat is the control center for your home's heating & cooling system
At a basic level, a thermostat monitors the temperature in your home, comparing it against the desired setting. If the temperature dips below or rises above this temperature, the system adjusts to cool or heat the home to reach the set point again.
There are two types of thermostats, simple ones that let you set one temperature that you adjust manually and more complex ones that allow you to set the temperature based on a schedule.
Programmable Thermostats
You may not consider the humble thermostat a high-tech device. Modern programmable thermostats can do some pretty incredible things: global remote access, ventilation control, and of course, energy savings through maximized efficiency. They can keep your family comfortable on even the hottest New Jersey day while and at the same time reducing stress on your home's air conditioning system.
Although programmable thermostats vary in how they operate, the principle is the same. A programmable thermostat allows your system to work less hard when your family isn't home, saving you money on your utility bills and avoiding wear and tear on your system.
Programmable thermostats offer a variety of benefits for your home including:
Available touchscreen interface
Ergonomic design
User-friendly menu-driven operation
Temperature precision within 1º F
Energy savings as high as 25%
Control air circulation with thermostat fan controls
Schedule the temperature around your life with seven-day programming and available vacation mode
Energy Star qualification with the U.S. Department of Energy
Non-Programmable Thermostats
A.J. Perri offers non-programmable thermostats with easy-to-use temperature control, including products from Honeywell in digital and analog designs. Here are some of the advantages of a non-programmable thermostat:
Ease of use. With just a few simple buttons, you can change the temperature in your home.
Simple interface. Large display with an interface that can be easily read in all lighting conditions.
Consistent, precise temperature control.
Easy maintenance. Batteries are contained in easy flip-out doors or compartments that make changing a breeze.
Contact A.J. Perri for more information about our products and services. Don't forget to ask about our 100% Satisfaction Guarantee!
"There is no one-size-fits-all solution when it comes to thermostats. We carry several kinds, both programmable and non-programmable, so we can help you select the right one for your home."
A.J. Perri Answers Your Frequently Asked Thermostat Questions
Can homeowners install their own thermostats?
You might be able to install your own thermostat, but we do not recommend that you take on such a project. Improper installation can harm your heating and ventilation equipment, necessitating an expensive repair job.\
Can homeowners replace thermostats by themselves?
Amateurs can replace thermostats on their own, but A.J. Perri does not recommend you take this approach. A DIY installation could result in HVAC system damage, and you may be unable to control the heating and cooling to your specifications.  Our experts are standing by to replace your thermostat efficiently and correctly.
What's the right way to select a home thermostat?
Consult with a professional from A.J. Perri to cover all your bases. Variables include:
How much control you want over the HVAC system
Your budget
Comfort level your family desires
What do experts charge to install thermostats?
The cost to install your new home smart thermostat will depend on what brand you select and how complicated the installation job is. A.J. Perri will give you a precise quote before work begins. 
Why should we hire an expert to install our thermostat?
An HVAC professional from A.J. Perri knows how to install a thermostat correctly to avoid damaging your equipment. We can also advise you on selecting the most suitable smart thermostat for house comfort to meet your family's requirements.
What are our options for thermostats?
Programmable, such as the Carrier programmable thermostat 
Smart, such as the Carrier smart thermostat 
Wireless, which is ideal when you want to operate your whole home thermostat remotely
We'll be happy to advise you on the benefits and features of each type of thermostat.
Will I save money on utility bills with a new thermostat?
Yes, because your thermostat lets you optimize temperature settings for your family's preferences, such as using the system more on weekends than during the week. You'll reduce energy use and utility bills by only heating and cooling the home when necessary.
What's the principle behind programmable thermostats?
A programmable thermostat lets you designate schedules for automatically running the heater or AC only when needed. You'll use less fossil fuel, helping protect the environment.
What is a wireless thermostat?
A wireless thermostat connects with your HVAC equipment over the air, making it more convenient to control. A wireless thermostat is ideal if your home is large or has multiple stories. 
Can I control my thermostat from a remote?
A wide range of smart thermostats lets you control them using an app on your smartphone. Access your thermostat while you're away, such as at work or an appointment. Your home will be at the desired temperature upon your arrival.
Will A.J. Perri maintain my thermostat?
Yes, our HVAC professionals are standing by to maintain your thermostat so it will give you reliable service, helping extend its useful lifespan. You can also avoid expensive repair jobs.
What mistakes are most prevalent in thermostat installation?
Installing the wrong type of thermostat
Wiring the thermostat incorrectly
Placing the thermostat in an inappropriate location
Our professionals will ensure you don't suffer from these problems.
How can a homeowner determine when it's time to replace a thermostat?
No longer giving accurate readings
Thermostat malfunctions
Thermostat is outdated
We'll check your thermostat and advise on installing a new unit.