Hybrid Heat Installation
---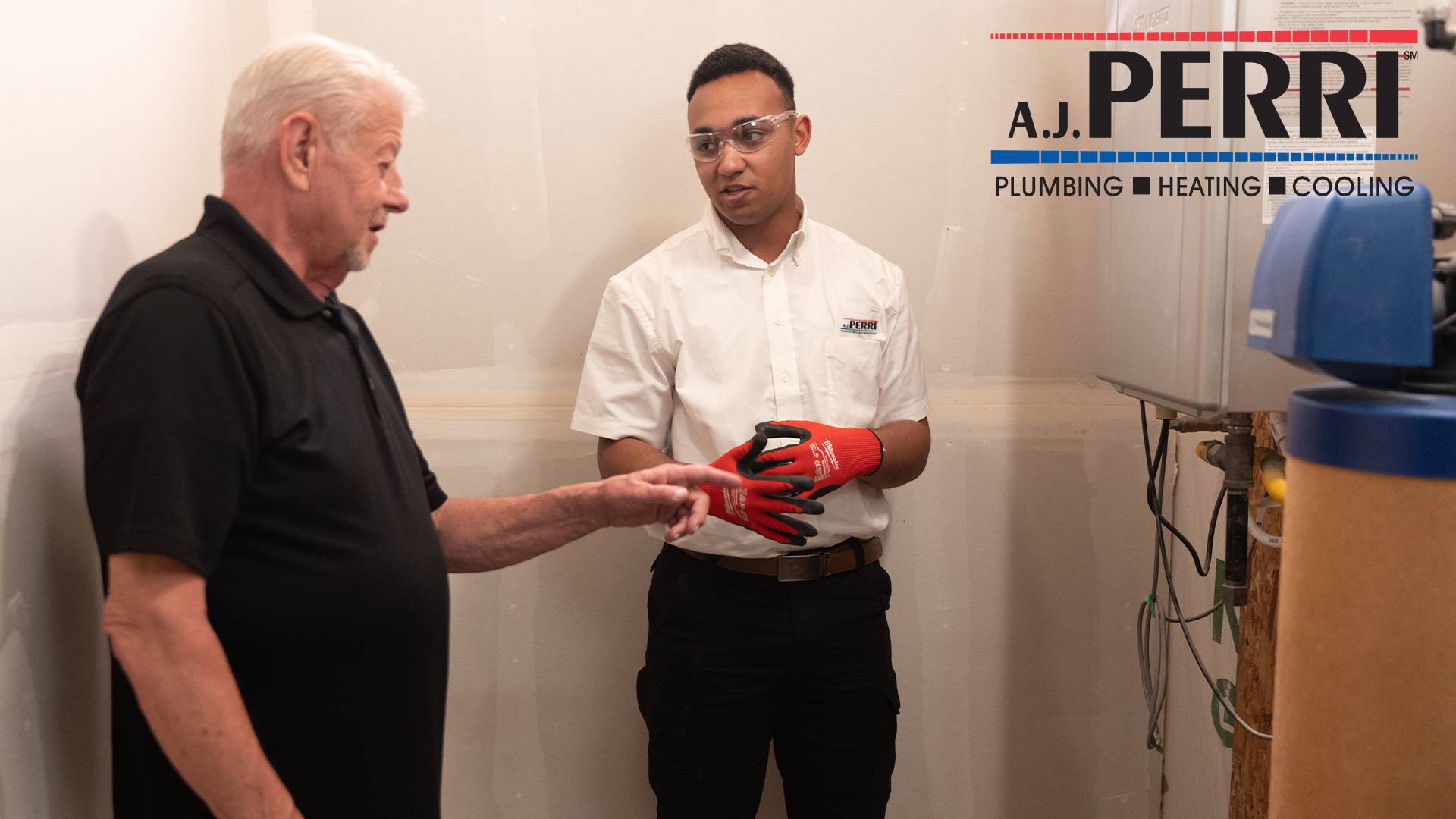 Efficiency
Due to the rising uncertainty surrounding today's heating and cooling costs, homeowners in New Jersey are becoming more and more interested in finding the best, most economical solution for indoor heating and cooling.  A.J. Perri specializes in creating customized home comfort systems tailored to your needs with a broad selection of residential heating and cooling products. A.J. Perri can help you choose the best system for your home, including a Hybrid Heat™ system designed to deliver maximum comfort and economy.
Performance
Hybrid Heat™ systems deliver exceptional performance by using a heating source that provides its most energy-efficient comfort during moderate heating conditions. As the temperature drops outside, the system automatically switches to your second heating source when that becomes the most economical way to keep your family comfortable.
Heating
A.J. Perri's ultimate Hybrid Heat™ system includes an Infinity™ 95 gas furnace with our Infinity™ 19 heat pump to provide soothing, superior comfort during both heat pump and furnace operation. This powerful combination can deliver heated air temperatures that are warmer than most traditional heat pumps so air from your vents feels warmer to the touch
Cooling
Because an A.J. Perri Hybrid Heat™ system also provides cool, indoor comfort when it's hot outside, this system becomes your total, year-round indoor comfort solution. And with the recent increase in the SEER rating (SEER = Seasonal Energy Efficiency Ratio) of air conditioners and heat pumps, a Hybrid Heat™ system could also save you money during the cooling season.
Control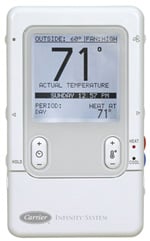 No matter which control best fits your needs, you can count on automatic control of your Hybrid Heat™ system. A.J. Perri will select a "balance point" that tells your control when it's best to select heat pump and when it's time to switch to furnace operation. As utility rates in your area change, this balance point can be easily adjusted by A.J. Perri. To get the best efficiency from your system, we recommend taking advantage of the seven-day programmability to select a comfort schedule custom-fit to your lifestyle.
A.J. Perri Installations for Unmatched Performance:
Humidifier replenishes moisture to dry air.
Evaporator Coil allows the refrigerant to absorb heat from the air as it passes over the coil surface. The evaporator coil is located with the indoor unit and is also referred to as the indoor coil.
Gas Furnace provides reliable, high efficiency heating for long lasting comfort and energy savings.
Air Cleaner improves air quality by removing harmful and irritating airborne pollutants from your home.
Heat Pump provides reliable, ultra high efficiency heating and cooling for long-lasting comfort and energy savings.
Infinity™ Control is more than just a thermostat. It's your interface to the Infinity™ System, the only system in the industry that allows you to control temperature, humidity, air quality, fan speed and ventilation.
Comfort Zoning sets different temperatures for up to eight different areas of your home for truly customized comfort and enhanced heating and cooling savings.
Comfort Ventilator combines fresh outdoor air with conditioned indoor air for improved air quality and maximum efficiency – great for today's tightly constructed home.
Ultraviolet Germicidal Lamp reduces the amount of pollutants, such as mold, bacteria, fungi and viruses, leaving your home with cleaner, fresher indoor air.
Technology
In addition to its two heating sources, an A.J. Perri Hybrid Heat™ system also requires a wall-mounted control that ties the system components together. The control takes the place of a standard thermostat and is designed to automatically select the correct heating source. Just select your desired comfort settings, walk away, and let the system do the rest.
Infinity™ Control – Provides unmatched ease of use with ultimate control over temperature, humidity, dehumidification, and more, as well as seven-day programmability, accessory monitoring and maintenance and service reminders.
For more on this or any of our other products and services, please contact us. Don't forget to ask us about our exclusive 100% Satisfaction Guarantee!
"We can help you choose the best system for your New Jersey home, including a Hybrid Heat™ system, designed to deliver maximum comfort and economy."
– Installation Mgr., A.J. Perri