Show Your Pipes Some Love
February 11, 2020
---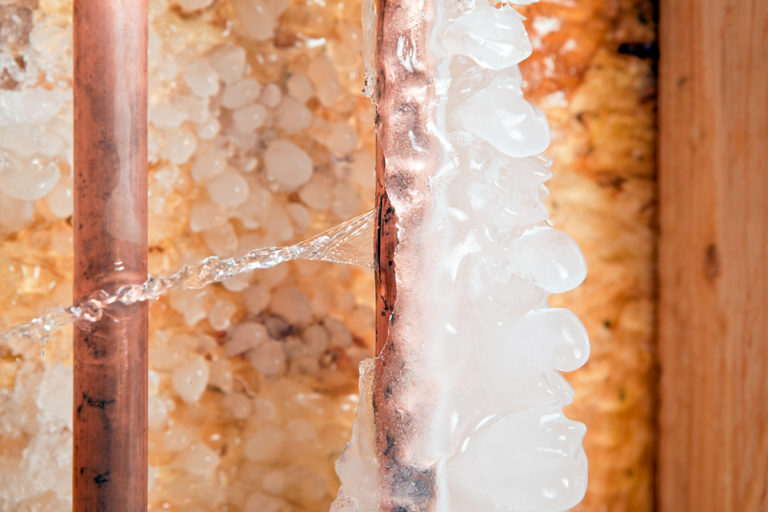 It's winter in New Jersey, and that can mean extreme temperatures. One annoying side effect of cold weather is frozen pipes. This issue can range from the minor frustration of having no water to a major home repair if those pipes burst. A.J. Perri wants to help you show your home and your plumbing system some love this winter by helping to prevent frozen pipes (and we'll be there if they burst too)!
Insulate your pipes in cold areas
Insulating your pipes is the first step to prevent frozen pipes. Obviously, you'll want to insulate any exterior plumbing, as well as any pipes in the colder areas of your home, like a basement or crawl space.
Keep water at a trickle
If you know that low temperatures are coming to your area (at or below freezing), then keeping your faucets at a trickle can help your pipes stay warm from the constant movement. Turn on both the cold and hot tap just a little when you hear about a cold front coming through.
Set your thermostat at 55
We all know that one cost-saving measure for your HVAC system is to turn down the temperature while you're at work or on vacation. However, be sure to leave it at least higher than 55 degrees Fahrenheit to help prevent frozen pipes while you're away. If you are expecting freezing temps while you will be out of town, you can also keep cabinet doors open to get a little extra warmth to your pipes.
If your pipes DO freeze...
Even the best prevention can sometimes not be enough to stop frozen pipes. If you do find that you have frozen pipes, you should be sure to keep the faucet open to encourage water movement.
If your pipes burst!...
If your pipes burst, shut the water off immediately! You should also turn off your heating system and electrical devices, as well as cover the electricity main box. Call a professional plumber from A.J. Perri, and we'll come out to assess the damage and make necessary repairs. While the plumber is on their way, you should remove furniture from the flooded area, start using a shop vac or sump pump to clean up water, and set up some fans or dehumidifiers around your home.
Know that A.J. Perri plumbers are always prepared to quickly help if you have frozen or burst pipes! Especially in February, the month of love, we want to make sure you are receiving superior service from our technicians, so that you'll keep saying "I LOVE THOSE GUYS!" If you have questions or concerns about your plumbing system, give us a call today!
Last Updated: September 13, 2023