A.J. Perri Is Making Strides (From Home) Against Breast Cancer
October 06, 2020
---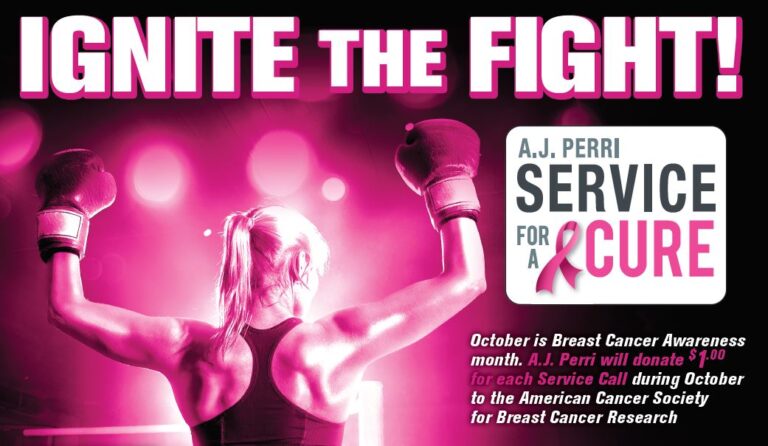 October is Breast Cancer Awareness Month, and A.J. Perri is doing our part to "ignite the fight" against this disease. Although fundraising this fall looks different in the midst of a pandemic, we encourage you to still join us in the fight to make strides for breast cancer research.
Service for a Cure
As we have done in past years, A.J. Perri will continue our "Service for a Cure" program to support the American Cancer Society's Making Strides Against Breast Cancer event. For each service call in the month of October, A.J. Perri will donate $1 to breast cancer research.
During the last 10 years, our A.J. Perri team has raised nearly $50,000 in support of this worthy cause! You can help us ignite the fight by simply scheduling your regular maintenance visit or a repair call during this month.
Making Strides with A.J. Perri
Just like you, many team members in the A.J. Perri family have been touched by cancer either personally or through a friend or family member. Especially now in a global pandemic, we know how vital it is to unite as a local community in the fight for a world with less cancer and more living.
"Although there aren't any in-person events planned for this year's Making Strides, it's no less important that we pull together and do what we can to help this great organization," says Debbie Kern, Director of Marketing for A.J. Perri. "Cancer doesn't stop during a pandemic, but with so many people out of work, funding can be harder to come by. We hope to donate a record amount of money in 2020, and with your support, we can do it!"
Igniting the fight
For more than 100 years, the American Cancer Society has been raising funds, helping patients get treatment, and fueling cancer research. During the COVID-19 pandemic, the organization has continued to serve cancer patients and their caregivers with treatment assistance and additional scientific research into COVID-19 and cancer.
Apart from skin cancers, breast cancer is the most common type of cancer in women. It is estimated that in 2020, about 279,100 new cases of invasive breast cancer and about 48,530 new cases of non-invasive breast cancer will be diagnosed. We encourage you to join us in the movement to save lives by donating, recruiting friends and family, or participating in a virtual Making Strides walk to raise awareness and funds.
Thank you to all of our customers who help us ignite the fight against breast cancer through your donations and support. If you'd like to help us donate by scheduling your fall service, give us a call at (732) 733-2548 or schedule online before the end of October!
Last Updated: June 09, 2023