Carrier Ductless Units
---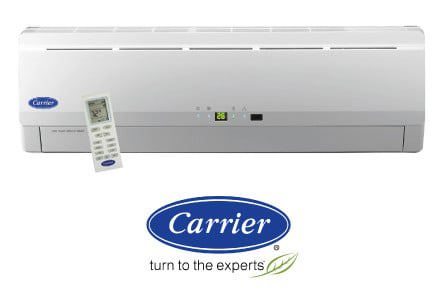 Whether you're installing a new HVAC system in a historic home or you just need to heat and cool a small space that you don't use often, you can turn to Carrier. Carrier offers a full line of high efficiency ductless solutions that can fit your needs without compromising the integrity of the space or comfort.
Wall Mounted Indoor Units
Control Your Carrier Unit Remotely
Each unit comes with a standard wireless remote controller, allowing your comfort level to be easily adjusted. The remote control also features a sleep timer so that the temperature may adjust after you've gone to sleep.
Humidity Control
Each unit features a Dry Mode so that it can be set to remove moisture, even when cool air may not be desired. Dry Mode includes a 24-hour timer where full conditioning is not needed, but humidity removal is.
Year-Round Comfort
Each time the system is turned on, the fan is automatically set to "High" so that the set temperature is reached as quickly as possible. Then, as the room temperature approaches its goal, the fan speed automatically adjusts downward until the set temperature is reached. No matter what the weather is like outside, even at -22F, select systems can heat at 80% capacity. They can also cool at 100% capacity when the outdoor temperature is at 130F.
Quiet Operation
Quiet Operation. Wall-mounted units have a Quiet Mode option that, when selected, causes the fan to run so quietly you will hardly know that it's running while maintaining your comfort settings.
A.J. Perri technicians are extensively trained to install, repair and maintain Carrier ductless mini split systems. For more on this or any of our other products and services, please contact us. Don't forget to ask us about our exclusive 100% Satisfaction Guarantee!