What is a Ductless Split System and How Can it Save Me Money?
November 08, 2016
---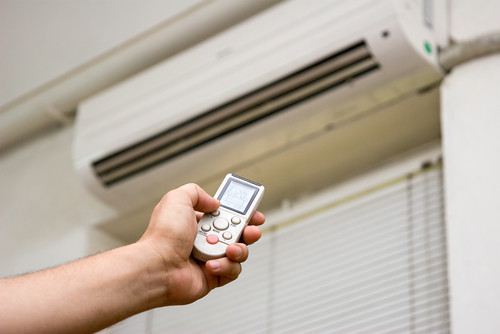 In the never-ending search for savings when it comes to your utilities, we know that the home comfort system in your home tends to use the most energy. Some homeowners feel that if they shut vents in rooms that are not always in use, it'll save energy costs. Not true. If you want to control what rooms are cooled or heated, you might want to consider a ductless split system.
A Ductless Split…What?
A ductless split system—seems like a mouthful, sounds confusing, but really, it's not. They're ductless because they do not require adding or using ductwork throughout the home, which can save  time and money.
Ductless Split Systems work well in new home additions (saves you money on running new ductwork) or smaller houses. They are a good choice when extending or installing ductwork isn't feasible, as well as newer, efficient homes that might require only a small space conditioning system (tiny home fans rejoice).
You can choose to install as many or as few units as you wish—a single unit, or even a multi-unit is available. Like a standard heating and air conditioning system, a ductless split system has an indoor and outdoor component. The indoor component is mounted on the wall and connected with a simple wiring process to the outdoor unit.
Have you ever dreamed of working in your garage during in the winter, but shudder at the thought of using a space heater, or trying to use your HVAC system in there? A ductless split system is the perfect candidate for that room. Looking to add an office? Again, this is another great location to have separate control of the temperature.
How Does It Save Me Money?
In addition to the initial savings, that includes the lack of ductwork installation running throughout the house, you won't have to worry about the threat of leaks in the ductwork. A ductless air conditioner is more efficient—refrigerant is moved directly between the outdoor compressor and the indoor unit, blowing cool air directly in the home—cutting out the middle-man of the ductwork, and offering comfort faster.   (how can we say this without bashing the traditional systems we sell please)
Maintenance of your ductless split system is easy—the filter is easily removable and washable.
There's also the chance of making everyone in the family happy—want it cooler in the kitchen during those heavy cooking/baking days? You can cool the kitchen while keeping the other rooms at a comfortable temperature all at the same time.
Speak with a knowledgeable professional from A.J. Perri and discover how we can help you be in more control of your comfort and efficiency with a Carrier ductless split system.
Last Updated: September 13, 2023