PLUMBING & HVAC SERVICE IN SUMMIT, NJ
---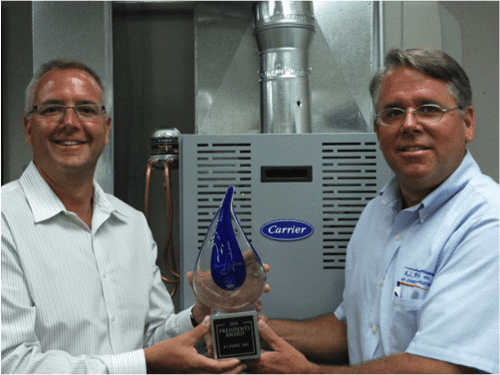 Since 1971, A.J. Perri has been the choice for plumbing, heating, and air conditioning repair for Summit, NJ, homeowners. We also offer you peace of mind, ensuring your equipment operates safely. We help you save money on your fuel bills, and we help deliver relief to those with allergies and many others concerned with the quality of the air they breathe. We ensure your comfort by evaluating your entire heating and cooling system, as well as the environmental and physical factors that can affect the comfort level in your home. Our all-inclusive approach lets us devise an optimal comfort plan for your home that won't break your budget. It's no wonder so many choose us in Summit for HVAC and plumbing expertise.
AC REPAIR
We have more than five decades of experience and industry knowledge, ensuring your Air Conditioning job is done right the first time, and we offer a 100% satisfaction guarantee. We can install and service any make or model of air conditioner in your Summit home. We are an authorized Carrier dealer and we have NATE certified, trained technicians working days, evenings and weekends for your convenience.
HEATING REPAIR & FURNACE REPAIR
Our winters in New Jersey can certainly be harsh. At A.J. Perri, we are here for all of your heating repair, installation or replacement needs so you stay comfortable all winter long. As your best choice in Summit for furnace repair and other related work, we service all makes and models of furnaces. We also specialize in providing heating installation in Summit that creates a customized home comfort system tailored to meet your needs. We offer a broad selection of state-of-the-art products designed to keep you comfortable while helping you save on energy costs. Click here to learn more about the benefits of heat pumps and other heating system options we provide.
PLUMBER
If you need to repair, maintain or improve your plumbing, you can rely on A.J. Perri. We are the best choice in Summit for plumbing services that are fast and professional. Learn more about our wide range of plumbing services and products.
We look forward to hearing from you if you need additional information regarding our products and services, or if you have a suggestion about how we may better serve you. We serve the entire area, including nearby Briant Park, Canoe Brook, Downtown, Northside, Woodland Park and more. Contact us today.
Frequently Asked Questions in Summit, NJ
Are HVAC and plumbing the same thing?
No, these terms refer to two different but equally important systems within your home. HVAC stands for "heating, ventilation and air conditioning," and this equipment serves to control the temperature and indoor air quality inside your house. It regulates heating and cooling, ensuring that the indoor environment will always be comfortable no matter what the weather conditions are where you live.
Plumbing, on the other hand, is everything that distributes and manages water in your house. Not only does this include the supply of fresh water for drinking, cooking and cleaning, but also disposing of wastewater from toilets and drains.
Although both HVAC and plumbing systems are essential for the infrastructure of your home, they serve very different functions and require specialized expertise to keep them in good working order. Fortunately, we have the experience and skills needed to address your needs in both areas.
How long does an HVAC system last?
There are a number of factors that can influence the lifespan of your equipment. These include the type of system, the quality of its installation, how often it is maintained and how frequently it is used. The rule of thumb is that most HVAC systems last between 15 and 25 years. Keeping up with regular maintenance such as changing filters and annual inspections can extend this, while neglect and heavy use can shorten it.
In addition, environmental factors also play a role in how long your Summit heating and cooling systems will last. Given that the average high temperatures in July can reach 85 degrees Fahrenheit and January lows can average around 27 F, Summit homeowners might use their systems more frequently during periods of extreme temperatures. This is why choosing us to perform regular servicing of your equipment is important.
How much does it cost to replace an HVAC system in New Jersey?
This can vary based on a number of factors including the brand, installation complexities and any additional features. Prices also may change over time due to labor costs, new technologies and inflation. It's important that homeowners always obtain multiple quotes from reputable contractors before making any decisions about their systems.
Who should Summit residents contact for questions about HVAC permits?
Before starting any project involving major renovations or upgrades to your home, it's important to make sure it will comply with all local regulations and understand your obligations. Those who live in Summit and have questions about permitting a major HVAC project should get in touch with the city's Department of Community Services. Located at 512 Springfield Ave., this department is the best place to inquire about the application process, fees, requirements and any other questions related to obtaining a permit.