Wife Nominates Disabled Veteran Husband for A.J.Perri Cares Donation
January 11, 2018
---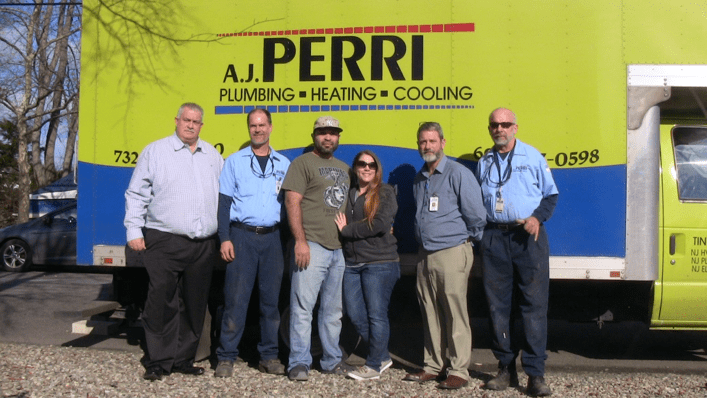 Stephanie Diaz of Toms River, NJ, nominated her husband Leoncio for the A.J. Perri Cares program in hopes that he would win a donation that could better their daily home life. To the Diaz family's surprise, he was selected to win! On Tuesday, December 19, 2017 A.J. Perri's installation team met the Diaz family at their home and installed a new Carrier HVAC system, a special air filtration system, and a Nest Smart Learning Thermostat free of charge. "It's an honor and a privilege to be able to help the Diaz family," says Jim Henkel, A.J. Perri's General Manager.
Leoncio Diaz is a disabled veteran who served in the U.S. Marine Corps for 15 years after signing up in response to 9/11. He deployed to Iraq from 2004-2005, and upon his return he faced several hardships including severe PTSD and breathing ailments. While overseas, Leoncio maneuvered in and out of burn pits to discard waste. The smoke he encountered daily had negative effects on his breathing and lung health. "The air conditioning unit filtering out the air and clean air in the house is going to help me a lot," says Leoncio.
The Diaz's have three children ages 10, 11, and 17 who also suffer from breathing ailments including allergies and asthma. The equipment they are receiving will alleviate the struggles they face due to these conditions by providing cleaner air to breathe in. Leoncio says, "I feel very proud to have served my country, and I feel very relieved and happy to see a company of this caliber helping a veteran out and their family."
The team is thrilled to be in the position to serve those who have selflessly served our country. Installation Field Supervisor Aron Usdan recounts Mr. Diaz thanking him for installing this equipment and said he thought to himself "I should actually be the one thanking him for his service, so I can't really think of a better way to give back to him and his family." Also present at the installation was Service Manager Greg Johnston who said, "To be able to give back through the A.J. Perri Cares program is immense to me. This is our fourth installment, and every time I do it I have a sense of fulfillment being able to give back to people who have served us and served others."
Four veteran families have received new HVAC and/or plumbing equipment through the A.J. Perri Cares program, and it won't stop there. "We look forward to doing more of these projects in the year 2018 where we can continue to help deserving veterans in our community. They sacrifice so much for us, and this is nothing in comparison for what they do for our community." said Jim Henkel.
Last Updated: June 09, 2023