Bring Your Home into the 21st Century with a Nest Thermostat
June 05, 2017
---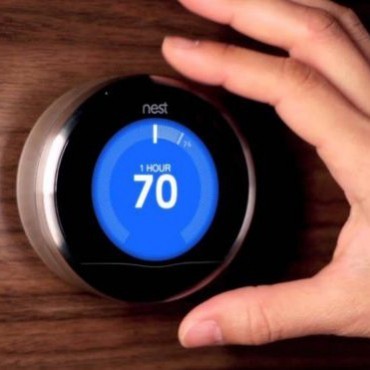 While programmable thermostats are nothing new to the heating and cooling world, the 3rd Generation Nest Learning Thermostat offers many time and money saving features that were once just in your imagination. Installing a Nest thermostat saves, up to 12% of yearly heating costs and 15% of yearly cooling costs. The Nest's ability to increase home comfort is second to none.
The Nest Learning Thermostat does just that- learns. In just a few weeks of use, Nest will learn your schedule as you adjust the temperature from the thermostat ring or the Nest app. By making these small changes in the first weeks, you will teach Nest the temperatures you want during the week and on the weekends. Nest will learn that while you leave your home at 72 during the day, you like to sleep at a cool 68. It will then lower your thermostat around the time you go to bed every day. Nest can also sense when your home is empty and will adjust the temperature to save energy.
The Nest's "smarts" extend beyond just learning your schedule. It is connected through Wi-Fi to an app you control with your smart phone. Adjust the temperature while you're away and get alerts if your home dips below or above acceptable limits. This feature could save you the surprise frozen pipes during your winter getaway. The Nest app also allows you to see, in real-time, how much you're saving with your new Nest system. The thermostat itself offers options to make your system more energy efficient.
The Nest thermostat offers four sleek ring choices as well as choices for your "Farsight" screen.  Farsight is a unique feature that gives you information when you enter the room. The Nest digital screen will light up and can tell you the temperature in your home, the time, or even the weather outside!
Unlike many other programmable thermostats, Nest is part of a larger system. Nest Protect is a state-of-the-art carbon monoxide and smoke detector that connects to your thermostat. Nest is also part of the larger Google Home collection and can be connected to your Google Home device to make your home even smarter.
If you're interested in saving money and increasing your home comfort with a Nest thermostat, contact A.J. Perri to determine if your system is compatible. Schedule TODAY and start saving.
Last Updated: September 13, 2023