AJ Perri Cares – The Robertsons' Story
June 22, 2017
---
We are committed to the community we serve, so when the opportunity arose to give back to a family in need, our team was enthusiastic to support the cause. Our team worked with Mike Fotia from Backpacks for Life, a veterans agency, and learned about a local home that needed our help.
Brandi and Jamie Robertson met in the Air Force and currently live in our community. The two have a young son together, and Jamie is now retired from the military, while Brandi continues to work as a military sonographer. Keeping up with home maintenance was difficult for the Robertsons given their busy schedule. Their home's 16-year-old HVAC system was in serious need of an upgrade; with the heat wave our area has been experiencing, the Robertson's home comfort was in question.
On June 15, 2017, our crew went out to the Robertson's home and donated and installed an air conditioning unit free of charge.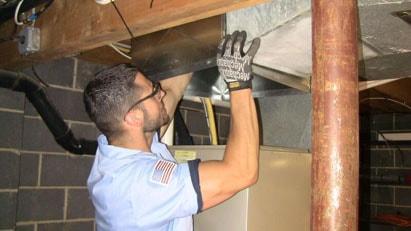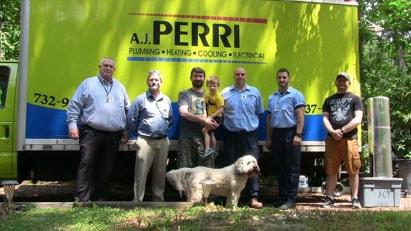 AJ Perri appreciates the service and sacrifices active and retired military like the Robertsons make.  It is a privilege to be able to serve those who have selflessly served our country. The day was full of mutual respect and appreciation.
Brandi and Jamie's family is one of many intended recipients for our AJ Perri Cares initiative, which aims at donating an HVAC system to a veteran in need. We will be working in our service area to complete these projects and announce a formal nomination process by August. In addition to giving away HVAC equipment and installation, AJ Perri employees will be engaging in volunteer and civic opportunities geared towards veterans' services.
The AJ Perri Cares Initiative is consistent with our commitment to the community we serve. We see this as a different opportunity to give back, and we're excited to help more families in need.
Last Updated: September 13, 2023