A Surprising Way to Help Survive this Allergy Season (You Won't Need a Hazmat Suit)
April 14, 2015
---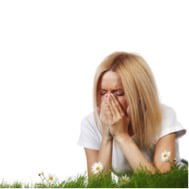 Spring brings more than warm weather and butterflies, it also ushers in a troubling season for tens of millions of Americans.
Allergy Season.
If you are among those who suffer from Spring allergies you may have cause for alarm this year.
Experts are predicting higher pollen counts than normal- meaning a longer, more difficult allergy season for some.
Aside from stockpiling Kleenex and Zyrtec, there are other ways you can help alleviate your allergy symptoms.
The EPA suggests taking the following steps to lessen allergy symptoms:
• Reduce the source of allergens such as animal dander, house plants etc.
• Remove anything that introduces or collects allergens in your home. To start, fix leaky faucets, remove carpet or rugs and control dust.
• Leave your windows closed during allergy season. However, you need to ventilate properly to bring outdoor air indoors and remove indoor allergens.
• Clean your indoor air.
How to Clean the Air In Your Home
It is the particles that you cannot see that you need to worry about.
Virus-sized particles, bacteria, allergens, breathable dust and other air borne contaminants that circulate in your home can cause problems for those with respiratory conditions.
A Whole-House Air Cleaner may be the solution for your family. A quality Whole-House Air Cleaner can help provide relief up to 40 times greater than standard filters.
At A.J. Perri, we recommend residents  who suffer from allergies, asthma, hay fever or other breathing difficulties invest in their comfort this allergy season with a quality air cleaner.
Modern whole home air cleaners can help improve your health and overall comfort this allergy season.
An air cleaner can help keep your whole home cleaner, protect your furnishings and even save you the time and discomfort of continuously dusting and cleaning your home.
If you've never considered the benefits of installing a Whole-Home Air Cleaner in your home, we urge you to contact your local HVAC company to learn more.
You don't have to suffer through another allergy season wishing Hazmat suits were more fashionable.
For more information about improving the quality of the air in your home, please visit our blog or give us a call. If you're in our New Jersey service area we would be happy to send a technician over to help.
Last Updated: September 13, 2023