A.J. Perri Installs Free Home Equipment for Front-line Health Workers
June 26, 2020
---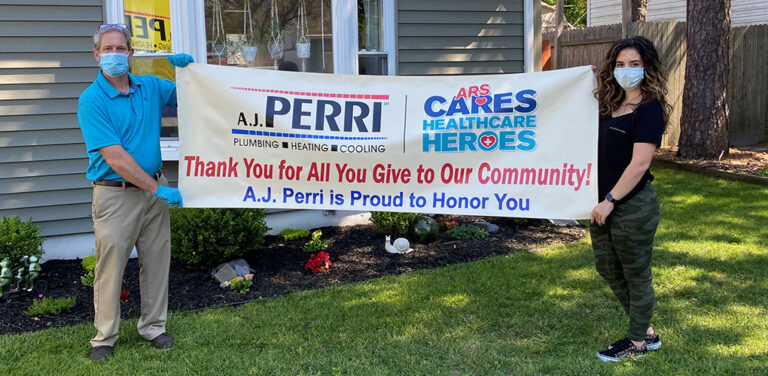 A.J. Perri, a leading local provider of residential plumbing, heating, and cooling services, recently installed free plumbing and HVAC equipment for two deserving "Healthcare Heroes" who have been fighting COVID-19 on the front lines.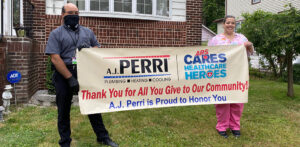 The first recipient, Registered Nurse Carla Biondi, works 14-hour days at two jobs and has had to reschedule her wedding twice. Ms. Biondi caught COVID-19 from a patient, recovered, and came right back to work. She is also a two-time cancer survivor. A.J. Perri technicians installed a free water heater in her home in Clark.
"Having been a single mother all these years, doing any kind of home repair has been costly," Biondi said. "When I bought my house, my brother replaced the water heater, but now it's petering out. So this came at the perfect time."
A.J. Perri also installed a free HVAC system for another front-line health worker in Brick, Ocean County. Nicole Hiller is a Certified Medical Assistant at a retirement community in Tinton Falls, and because of her exposure to COVID patients has been quarantined from her husband and their one-year-old daughter since March. In fact, she celebrated her birthday, wedding anniversary, Mother's Day, and her daughter's first birthday over FaceTime.
"My sister called and said, I nominated you for a new HVAC system," Hiller said. "I was like, 'What?'"
Hiller's daughter has been staying with family members, and she says it has been difficult not to be able to hold her daughter, and having to wave hello through windows. But she is devoted to her work and knows she is making a positive difference. "I'm going to work every day, and I'm helping people. This is just a small hump that I have to climb over."
Hiller described her old HVAC unit as unreliable, and prone to breakdowns. "I remember when my daughter was a couple of weeks old, and I couldn't get the heat on," she said. "I was shocked when I heard I had won this. I'm so grateful to my family, and also to everyone at A.J. Perri."
These installations are part of a nationwide initiative. A.J. Perri's parent company, ARS/Rescue Rooter, is installing free equipment for dozens of healthcare heroes throughout the U.S. as part of its "ARS Cares" program.
"We have a long history of giving back to our community — for example, we have also installed HVAC systems for veterans and active military personnel in need, including a recent Afghanistan veteran," said A.J. Perri General Manager Christian Dunning. "During the COVID-19 pandemic, so many healthcare workers and emergency first responders have sacrificed their own needs and risked their lives to help and serve others. Giving something back, and showing our gratitude, is the right thing to do."
Last Updated: June 09, 2023