A.J. Perri Gives Back to Veterans
November 01, 2018
---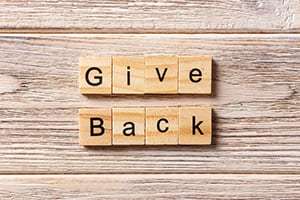 Every year the country sets aside November 11th to honor all US Veterans. At A.J. Perri we join everyone in thanking our veterans on this day and throughout the year. We like to remember and thank them in the best way we know how, by donating equipment and a little elbow grease to help some of the veteran families in our service area.
AJP Cares Initiative
AJP Cares is a program through which A.J. Perri donates heating/cooling equipment to a deserving veteran family in our service area. It is an honor and a privilege to give back to those who selflessly served our country so that we continue to enjoy our many freedoms. Throughout the years we've been privileged to help several families ….
Robertson family
Jamie and Brandi Robertson met in the Air Force – Jamie is retired, and Brandi works as a military sonographer. Their old HVAC system was about to retire as well. In June of 2017 the A.J. Perri crew installed new AC equipment free of charge to help keep the Robertsons and their son comfortable during heat waves in the years to come.
Gaines family
Master Sgt. Charles Gaines is part of a three-generation Marine Corps family. When he is away on assignment he hopes his family is able to stay warm, but the winter of 2016 was hard on the Gaines household due to an old HVAC system that started malfunctioning. The following September A.J. Perri installed a new system, along with a water heater, Nest Protect, and Nest Thermostat to make sure Sgt. Gaines has one less thing to worry about when he's away on duty.
Ozario family
That same September, the A.J. Perri team also installed equipment in the home of Mrs. Mayte Ozoria, a disabled veteran who served in Iraq. Her husband is active duty in the Navy, and the couple has two small children who Mayte cares for at home. The single military income has to stretch pretty far for the young family, and A.J. Perri had an opportunity to step up to do their part.
Diaz family
Stephanie Diaz of Toms River, NJ, nominated her husband Leoncio, a disabled veteran who served in the U.S. Marine Corps for 15 years after signing up after 9/11. While overseas, Leoncio encountered smoke daily from burn pits which had a negative effect on his respiratory system. A.J. Perri installed a new Carrier HVAC system, a special air filtration system, and a Nest Smart Learning Thermostat free of charge. The new system filters the air in their home allowing him to breathe easier – along with the family's three children, who also suffer from allergies and asthma.
Vasilevich family
After serving as a Navy jet mechanic, Michael Vasilevich retired from the Elizabeth Fire Department as a captain. In recent years, however, two major vehicle accidents left him with a traumatic brain injury and he is cared for primarily by his wife, although he retains his great sense of humor and enjoys sharing family memories. A.J. Perri was pleased to make the life of this loving father, husband, friend, and role model a little easier with the installation of a brand-new Carrier heating/cooling system, along with Nest learning thermostat.
Cardin family
After serving in the Navy for 21 years (10 years active, 11 years in the reserves), Joseph Cardin found himself needing a little help. After using savings to make repairs on his house, this father of three learned his HVAC system had mold inside and was too old to even be tuned-up. So, after being nominated by his fiancée, Joseph got a little help from his friends: A.J. Perri did a complete installation of new Carrier heating/cooling equipment, including a Nest learning thermostat.
O'Neil family
Most recently, A.J. Perri technicians installed a brand new air conditioning system for local veteran Patrick O'Neil. His old system had died, and he'd been without air conditioning for three weeks when A.J. Perri technicians arrived on the scene with the new equipment. Patrick said it made a big difference for him and his family – and his message to A.J. Perri was a big "Thanks!"
 A.J. Perri employees provide a little elbow grease
From time to time you may also see some of our staff with sleeves rolled up, engaging in other volunteer and civic opportunities geared toward helping veterans. A couple years ago you might've seen some of us working alongside others from 95.9 WRAT and Habitat for Humanity to build a house for a local veteran. In addition to some corporate sponsorships, several A.J. Perri associates worked alongside family members and community volunteers to build panels for a house that were taken to the construction site.
A.J. Perri really cares for the community
Everything we do for our veterans and others is part of our mission to extend a helping hand to the community we've been a part of for over 40 years. "We're committed to our veterans and our community," says Jim Henkel of A.J. Perri. "We look forward to doing more of these projects in the years ahead."
We thank all our veterans for their selfless service. And if you would like to learn more about the A.J. Perri Cares program, click here.
Last Updated: June 09, 2023