4 Ways to Prepare Your Air Conditioner for Spring!
April 06, 2022
---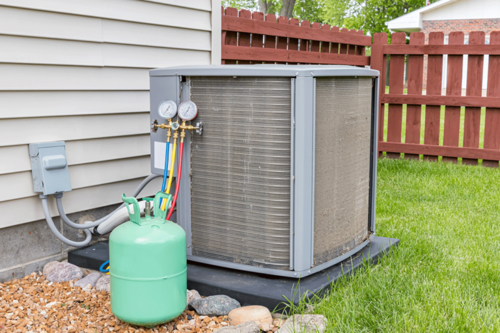 Spring is on its way in New Jersey, and the hot summer is right behind. Is your cooling system (HVAC) ready for the changing weather? It's always better to be prepared than to run into problems when you need your cooling the most. Below are five simple ways you can prepare your air conditioner for the new season ahead.
Trial Run Your Air Conditioning System
It's important to test your AC system before you need to rely on it. There's nothing worse than the first hot day of the year rolling around, you turn your AC on and it doesn't work. The first step of the trial run is to switch your thermostat from heat to cool. If this is the first time you've turned on your AC in a while, you'll want to be on the lookout for things like unusual knocking or banging noises, odor or debris around the unit, how long it takes to complete one cycle, and whether or not the air inside your house is actually cooling off. If you run into any problems during your trial run, schedule a service to get your AC up and running so it's ready when you need it the most.
Schedule Your Pre-Spring HVAC Maintenance
HVAC experts recommend getting your air conditioner and furnace cleaned and maintained twice every year, once before spring and once before winter. When your technician comes to do the maintenance, you can let them know about any problems you found during your trial run. This will help lead them in the right direction. In addition to fixing any existing problems, your pre-spring HVAC maintenance will also consist of thoroughly cleaning different parts of the system, fixing any leaks or repairs, replacing worn-out parts, replacing filters, and lubricating different mechanisms.
Check Your Thermostat
Your thermostat is a vital part of your HVAC system. You'll want to make sure that the temperature in your house is reflected in the number on your thermostat. If it's not, this could mean you'll be paying more for cooling, or something could be wrong with your system. The new season is also a good time to upgrade to a programmable or smart thermostat if you haven't already. This is a great way to save you time and money all year long.
Clean Your Air Ducts
Air ducts accumulate dust, dirt, and debris over time. If your air ducts are clogged it will put a lot of pressure on your HVAC system, decreasing efficiency and increasing cooling costs. An HVAC technician can perform an air duct test to see whether it's time for your air ducts to have a thorough cleaning. When you get your ducts cleaned, it removes everything from dust, dander, debris, and pollen that could also be affected your indoor air quality.
Don't wait until it's too late! Prepare your air conditioner for the new season now. Call us at (732) 733-2548 to schedule a service today.
Last Updated: June 30, 2023